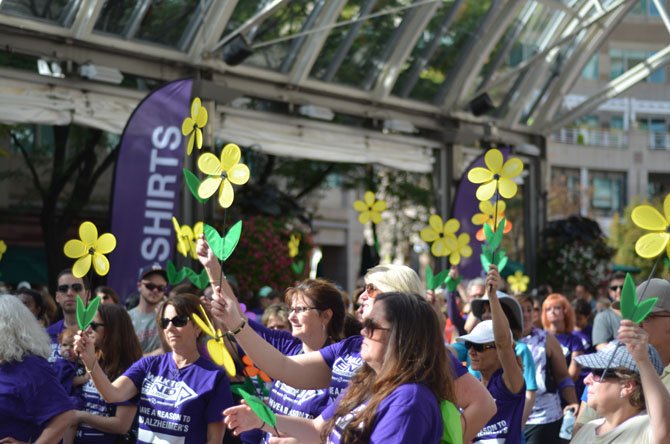 On Sept. 28, more than a thousand persons gathered at Reston Town Center to participate in the 2014 Walk To End Alzheimer's. The Alzheimer's Association National Capital Area Chapter coordinated the event. Funds raised through Walk to End Alzheimer's further the care, support and research efforts of the Alzheimer's Association, a nonprofit organization. Acting as emcee for the event was NewsChannel 8's Dave Lucas.
"It exceeds our expectations, it was a community effort," said Elliot Gaskins, vice president of development with the Alzheimer's Association National Capital Area Chapter. The chapter provides help and hope to more than 66,000 people with Alzheimer's disease and other dementias and their families and caregivers in the District of Columbia, five counties in suburban and southern Maryland and 11 counties in northern Virginia.
"This is our second year attending," said Cassie Rosser who attended the event with her brother Andrew Rosser. "The Alzheimer's foundation has been a huge resource for us. We could not have done it without our family, friends, and the Alzheimer's foundation." Cassie Rosser was one of several persons who shared what it was like to have a family member struggle with Alzheimer's disease.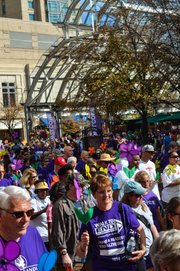 Mary Driver Downs, a full-time caregiver and Alzheimer's Association Ambassador spoke briefly about her experience in caring for her mom, Helen, who has Alzheimer's. Downs recognized support she has received through friends and the Alzheimer's Association.
Downs participated in the 2014 Reston Walk with members of the Woman's Club of Fairfax. "Mary does so much, she is such a great advocate," said Ellie Schmidt, member of the Woman's Club of Fairfax and council member for the city of Fairfax.
Aubrey Winger, captain of a team of family members and friends, also attended the Reston walk. Winger shared how witnessing the effects of Alzheimer's inspired her to participate in the walk so families will not have to go through the devastating loss of the mind of a loved one.
Tim Belanger, board member with the Alzheimer's Association National Capitol Area Chapter, thanked sponsors of the event, and reminded everyone that although the walk was in September the organization has until the end of November to achieve their fundraising goal. This year the chapter has a goal of raising $205,000. Belanger named event sponsors including The Connection Newspapers, which joined as a media partner with WJLA and WTOP Radio.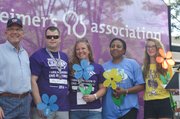 After registering, participants had the opportunity to collect a Promise Flower. Through color, Promise Flowers represent the diverse reasons participants have gathered. Walkers could write a personal message on their Promise Flower to strengthen their dedication. Everyone at Reston Pavilion was asked to raise their Promise Flower before beginning the walk, creating a garden. The one-mile route was soon flooded with those on foot and in wheelchairs. The Alzheimer's Association website, www.alz.org, provides information, resources and support, as well as a 24/7 Helpline.
Top Five Teams in 2014 Walk to End Alzheimer's Northern Virginia
1- Sterling Area Alzheimers Support Group ($8,660.00)
2 - Noonies Loonies ($6,637)
3 - Vicky's friends ($5,146)
4 - SRA Cares ($4,811.63)
5 - Loudoun Masons ($4,515)