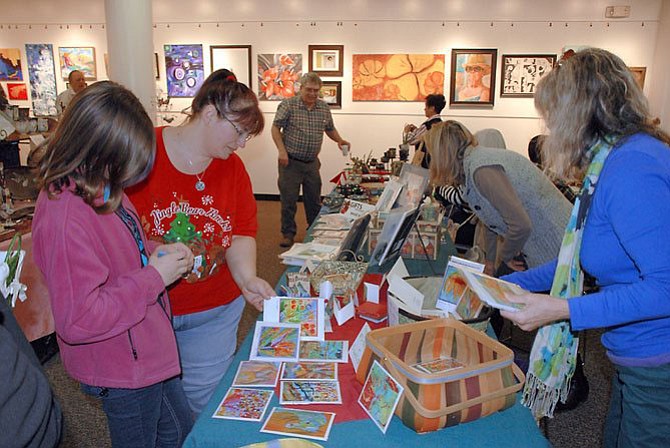 Lake Anne Community Center will become a holiday market to benefit charity.
On Dec. 6, the annual Gifts from the HeART reception and market will feature vendors from throughout the county for adults as well as crafts and a visit from Santa for children.
"The Holiday Shopping Event began in 2008 with seven artists and this year we are waitlisting artists who want to participate in the event," said Reston Community Center Arts Education Director Cheri Danaher. "The shopping event has grown into a Reston holiday tradition that brings the arts community together to benefit Cornerstones."
In addition to the vendor items for sale, the paper crafts located in the Jo Ann Rose Gallery and the 3D Gallery are also available for sale until February.
The holiday market will be held from 11 a.m. to 4 p.m. Other items throughout the day include carolers, holiday refreshments and a petting zoo.
Cornerstones has received $1,100 consecutively over the past two years. Since 1999, the sales from the event have generated $10,000 for the nonprofit.
"The amount provides one month of affordable housing for a formerly homeless family," said Cornerstones Marketing Representative Angela Suarez. "This is critical support, because to afford a two-bedroom apartment in our area at fair market rate of $1,469 requires an annual household income of $56,480."
She said nearly a fifth of households in the count do not earn enough to pay for rent without some type of support.
"Housing recipients benefit from reduced risk of homelessness, safer neighborhoods, improved physical and mental health and raising motivated children who succeed at school and in life," she said.
This will be the fifth year the event is held at the same time as Jingle at the Lake in Lake Anne Plaza. Last year, about 600 people came to the market.
The artists and vendors pay an entry fee to be a part of the festival, a cost that is donated to Cornerstones, along with 10 percent of their sales.
"For community members, it offers unique handcrafted one-of-a-kind art for themselves or to give as a holiday gift," said Danaher. For the artists, it gives them the opportunity to create happiness to those who purchase their art."
For more information, visit http://www.restoncommunitycenter.com/attend-shows-events-exhibits/event-detail/2014/12/06/default-calendar/HolidayShoppingEventReception.