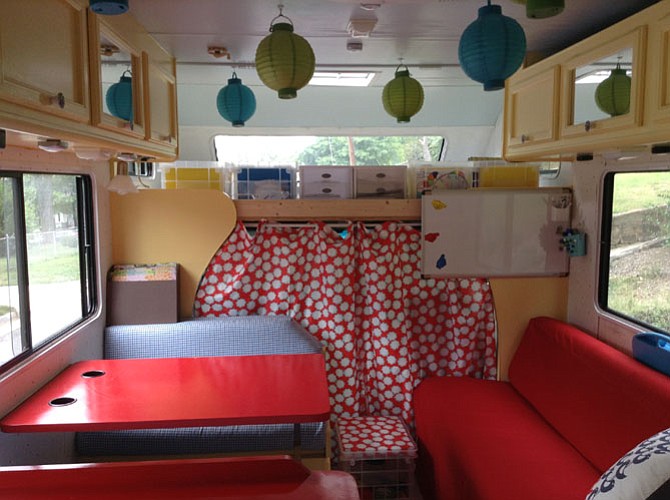 When Chris Sexton noticed her 10-year-old son was having educational difficulties, she searched for ways to help him. She found a solution in what she calls a "magic school bus." The bus driver, and teacher, was Anne Thomas of Alexandria.
"Ms. Anne's 'classroom' is like the magic school bus," said Sexton. "It looks like a sunny summer day from the outside and the inside is reminiscent of the most fun playhouse any child has ever seen."
The educational service is known as Ms. Anne's Class. Thomas' "classroom on wheels" is actually an RV she drives to the homes of students who need academic assistance. Thomas provides 70-minute sessions either once or twice a week. Each session gives individualized academic support in areas where the student's parents and teachers feel he or she needs extra help. This may include working on specific individual education plan goals and objectives or even other goals the parents feel are important.
Ms. Anne's Class currently serves students in grades kindergarten through fifth in Alexandria, Arlington and Falls Church.
"Instruction during each session is geared towards the child's specific needs," said Thomas. "While all students' sessions use a positive, engaging and multi-sensory approach to learning, each child's session may look different from another's because each session is designed around the child's goals, learning style and areas of strength."
Thomas, who comes from a family of educators, wanted to help students using a creative, home-based mobile classroom. "Not only do I get to continue to have a classroom, the RV provides a unique, specialized learning environment that is both a fun and calm setting for learning," she said.
Parents say their children are fascinated by the concept.
"My son couldn't wait to go inside and loved every minute," said Sexton. "Ms. Anne's approach is very gentle and firm and specific to the child. She assesses immediately what works. As a mom, I noticed the educational benefits from the very beginning. But the most memorable part was watching my son wave wistfully as Ms. Anne pulled away, knowing he couldn't wait for next week's visit."
Sara Sher, of Arlington, said her fourth grade daughter benefitted from Ms. Anne's Class. Thomas "targeted the areas where she needed improvement in math, instantly gained our daughter's trust, developed creative and fun games and materials to practice and reinforce those particular skills, and by building her confidence, helped take the dread and anxiety out of learning."
"Our daughter remarked that, 'Ms. Anne does not just teach you, she really cares and makes learning fun,'" said Sher.
Thomas holds bachelors' degrees in special/general education and psychology from Wagner College in Staten Island, N.Y. She taught special education for more than eight years in public and private schools. She worked as both a self-contained special education classroom teacher and a special education resource teacher at Taylor Elementary in Arlington. Additionally, she was a classroom teacher at The Diener School, a special education elementary school in Potomac, Md.
Thomas not only offers services for children after school, but also noon-3 p.m. for families who home school. Ms. Anne's Class also hosts supervised homework clubs for second and third graders and fourth and fifth graders.
"These homework clubs provide a space for students to complete their homework after school, develop good study skills and receive instructional help, all while in a fun group environment with friends from school or the neighborhood," said Thomas.