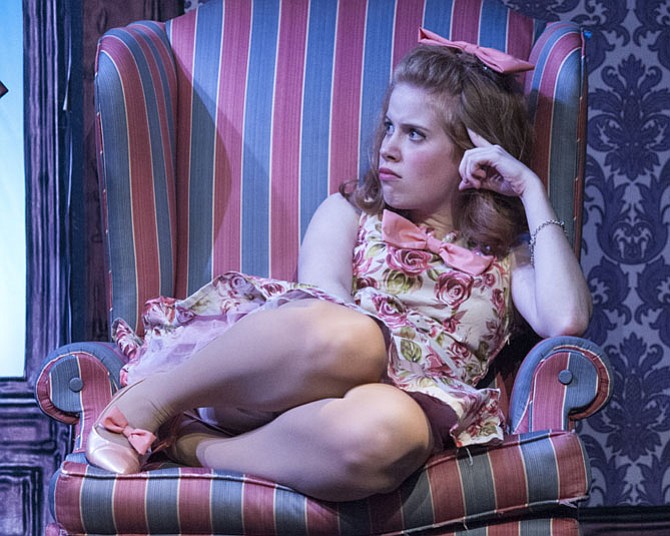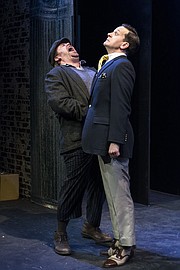 In a world that can be way too stressful and sober, 1st Stage brings a carnival of rowdy fun and silly jabber. This is the area premiere of the recent Tony Award winning, "One Man, Two Guvnors." It is most definitely a guilty pleasure of escapism. With plenty of live jaunty music.
"One Man, Two Guvnors" is best described as free-wheeling; at times a wildly funny quick step comedy. It works hard and successfully to treat the audience as unindicted co-conspirators in on the bedlam.
Written by British playwright Richard Bean, the show is an updated adaptation of a long ago commedia dell'arte style comic play. Commedia dell'arte is comedy of confusion as the characters overcome obstacles to life, love and a happy ending. The updated play takes place in 1963 in an English seaside town. The Beatles are making it and gender wars are heating up.
Director Matthew R. Wilson, artistic director of the award winning Faction of Fools theater troupe, has assembled a grand ensemble willing to go to any lengths overcome audience reluctance to give-up their normally staid clear-headed ways.
Francis Henshall (played winningly as a shrewd trickster by Doug Wilder) is out of work. Through confusing events, he finds himself employed by two men. Both men are wanted by the police; one a small-time gangster with a secret (a delicious Katy Carkuff) and the other, a middle-class criminal. (Daniel Corey with the comic timing and stare of a modern day Jack Benny). The game is afoot as Wilder tries to find ways to come out on top. This includes quenching an appetite for food and to connect with the woman of his dreams. (Bess Kaye, a joyous, tough-as-nails "feminist" book-keeper).
There is also an odd couple in love. A wide-eyed, not-quite all there ingénue (played to the tops by Megan Graves) and her fiancé; an over-the-top "actor" (Charlie Retzlaff).
Each of thirteen-member cast shows off their musical talents throughout the production. Costume designer Lynly Saunders brings out the characters nature in her clothes selections. Set designer JD Madsen gives the audience smiles with his charming renderings.
So, in the mood for a spinning-top evening of entertainment, with plenty of clever slapstick and happy tunes from a live skiffle band? Enjoy not being clear-headed all the time? Then "One Man, Two Guvnors" is here for a short time longer in the quickly changing "new" Tysons.