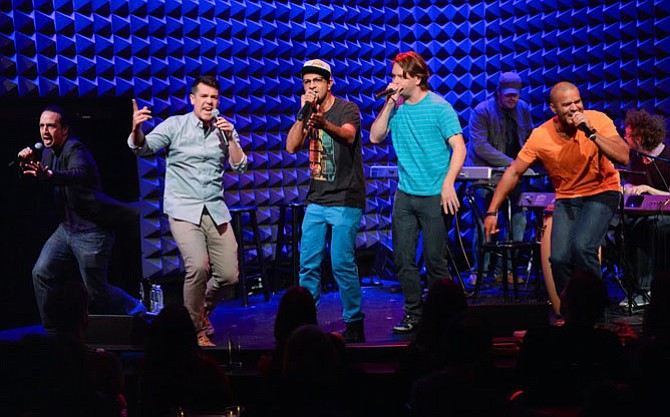 Former Alexandrian Thomas Kail had his first brush with the media while on an Alexandria youth league soccer team. The first mention of Kail's name in newsprint was in the Alexandria Gazette Packet after he scored a crucial goal for his rec team. Now, Kail is no stranger to the press. The Tony Award-nominated producer sees his name weekly on the small screen. On Oct. 16, Kail's brainchild, "Freestyle Love Supreme," an improv-based television show, premiered on the cable channel Pivot TV.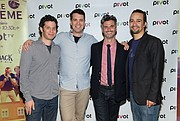 "It is a half hour long," Kail said. "At its core, it is an improvised comedy hip-hop concert with storytelling within it. It is all created instantaneously though; nothing is written. The show is two-thirds live performance, filmed in front of a live studio audience, and then one-third of it happens on the streets of New York City."
Executive producer and co-creator of "Freestyle Love Supreme," Kail said seeing his work come together on the small screen for the first time was thrilling and rewarding, and he looks forward to more episodes on Friday nights through the fall and winter.
Since "Freestyle Love Supreme" started as live theater production more than 10 years ago, Kail knew the TV show would have fans, but he was still excited by the viewer turnout.
"It was exciting to see how old fans of the stage show embraced this new TV version," Kail said. "I think we captured the spirit of the group. I was also delighted to see how many people found us for the first time."
Kail said even though he has lived in New York City since 2001, he will never forget where he came from. Kail's interest in drama was first piqued in a high school drama class at Washington D.C.'s Sidwell Friends School. While a student at Wesleyan University in Connecticut, his love of the theater really developed, in spite of an unrelated course of study.

"I was studying American history and then I had a friend – Anthony Veneziale - who pulled me into the theater in college," Kail said. "I didn't study theater formally, but I would go to work in the student-run theater from 7 p.m. until midnight, on the other side of campus with my friends."
The television show began as a theater production more than 10 years ago. He developed the show along with some of his college buddies, including Veneziale.
"I started Back House Productions with three of my pals from Wesleyan University, in 2001," Kail said. "We started making things constantly, some which were never heard from again, some that made it out of our lab into the world. One of the things we worked on was 'Freestyle Love Supreme.'"
Veneziale said he still remembers the day he and Kail started toying with the idea that would ultimately bloom into "Freestyle Love Supreme."
"In some ways, it started when Tommy and I were driving to Des Moines to help a fellow Wesleyan student make their thesis film and we got caught in a terrible storm around two in the morning," Veneziale said. "We were both exhausted from driving for 16 hours and we had to stay awake. I put on Daft Punk's Around the World b-side remix and told Tommy that he had to tell me a story over the beat."
In 2004, Back House Productions, along with other producers, Jon Steingart and Jill Furman, began putting on live shows in New York City. They also took their show on the road, traveling all over the world with "Freestyle Love Supreme."
"We performed live in festivals all over the world, going to places like Australia, Edinburgh and Montreal," Kail said. "Then a few of us in were involved in 'In the Heights,' so we took a break from 'Freestyle Love Supreme' from 2007 to 2009."
"In the Heights" is the Broadway musical that Kail directed and garnered a Tony Award nomination in 2008. The success and fan following that he earned from "In the Heights" and from other award-winning productions inspired him to give his improv-based "Freestyle Love Supreme" another run.
"It reinvigorated us and we started performing the stage show again," Kail said. "In 2010, we also started making videos with the website, College Humor, and on our own. We got introduced to Pivot in 2013, and we have been developing it with them for about a year now."
Veneziale said that from the first few New York City productions of "Freestyle," was just a matter of time before it became a television show.
"We did a bunch of live shows in and around New York City and people really liked the show, so we got to travel and do the show a bunch around the world," Veneziale said. "After that people were like, 'Well, can you turn it into a TV show?' We've been working on that for a long time. It's really difficult to capture improvisation in such a way that it feels authentic on the small screen, but I'm happy to say that I think we found a really interesting way to marry long form improvisation and television in this show."
Kail also said he is thrilled to be working with Pivot, and believes the channel is the perfect forum for the show. Pivot is a cable television channel whose programming targets millennials.
"Pivot is a really dynamic and appropriate fit for 'Freestyle,'" Kail said. "Our show can make the every day occurrence into a song. The idea of that sort of creative transformation will hopefully inspire people to feel like we can all elevate the everyday happenings of the world."
Kail said the TV show is a half hour long, and through its first season will visit many of the boroughs of New York City. He said even for himself, a producer, it is a blast to watch the show and the cast of characters performing.
"There are seven people on stage, two musicians, four singers and one guy who does beatboxing," Kail said. "I am happily off-camera and I think the world is better for that. It is a joy is to share this with more people and watch these guys do their magic tricks on television. My job to try and capture that magic."
Kail said what he loves most about his career is that it isn't all that different from what made him happy as a kid sprinting the soccer fields of Alexandria.
"It's the same dynamic on my soccer team as a kid as when I am making a show," Kail said. "My responsibility to make sure everyone is moving fluidly in the same direction."
"Freestyle Love Supreme" airs at 10:30 Eastern and Pacific Times on Pivot TV. It will also be available on iTunes.