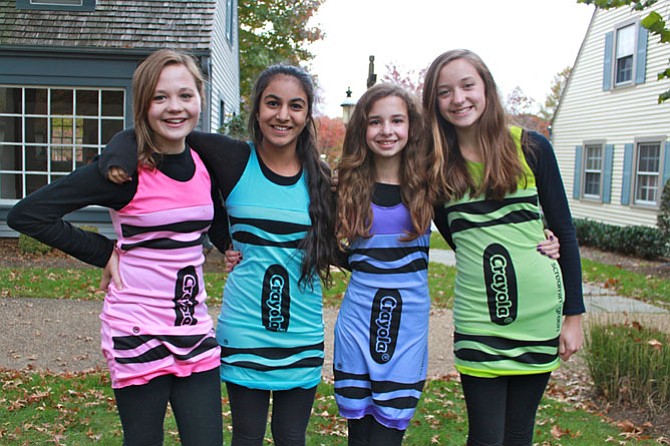 The ghouls and ghosts of Great Falls took over the village green and shopping center last Friday, Oct. 31.
Celebrate Great Falls' Spooktacular, a spooky multi-decade tradition, brought out hundreds of children, pets and parents to get candy and get to know their neighbors.
"I asked several of the merchants and the Boy Scouts and heard estimates anywhere between 600 to 700 kiddos," said CGF Director Erin Lobato. "Celebrate Great Falls Foundation went through 500 glow necklaces by 6:20 and then 300 blow pops. We also had record crowds at the pet parade."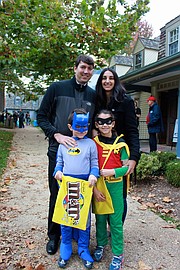 She said that some of the businesses in the green - like AOG Wealth Management with their full-size candy bars - even had to make runs to Safeway across the street to resupply their stock of candy before the event was over.
"My husband and I like that the Spooktacular allows a safe, well-lit trick-or-treating environment for Great Falls," said AOG Wealth receptionist Michelle Miller, who was dressed as the fourth doctor from Dr. Who.
This year's pet parade brought out dog lovers dressed to theme with their pooches. Darren and Jackie Jones brought their two loves together - football and dogs - when they came dressed as Washington Redskins players. Their three dogs, Cody, Hannah and Georgia, were dressed as referees.
"We love it," said Jackie. "We haven't been to this particular event, but we've been to many of Great Falls' events. We've been here for 15 years."
Many children this year chose to dress up as Frozen characters, in theme with Disney's latest blockbuster. Others, like 8-year-old Ana Toumazatos and her 6-year-old brother John dressed as Halloween classics: Batman and Robin.
"This is our second year coming here, but it's only our second year living here," said Mina Toumazatos, their mother.
When asked if the children have visited the haunted house yet, they shrieked excitedly and ran swiftly to the back of the line.
This year's haunted house was taken over by the local boy scout troop and had lines in front of it even before the event started at 5 p.m. Children of all ages left the haunted house breathless from being spooked and surprised inside the tent.
"The Haunted House had a line all night long and the boy scouts did an amazing job staying afterwards to take it all down and store it again for next year," said Lobato. "I wouldn't be surprised if its even bigger and better next year."