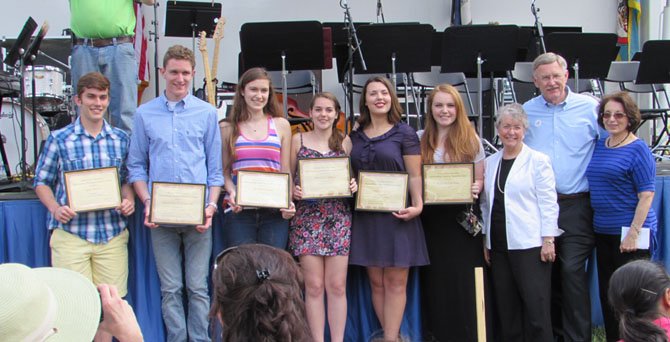 The McLean Citizens Association recognized six teens with Teen Character Awards in a ceremony on McLean Day. These exemplary teens—Kate Callahan, Megan Ganley, Meredith Harris, Madison Jones, Alex Pfadenhauer, and John Worm—were honored for rendering service to the community without pay, previous recognition, or enterprise from school or church.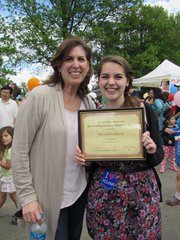 Kate Callahan, a McLean High School junior, spent her year voluntarily coaching elementary and middle school volleyball teams with McLean Youth Volleyball (MYV). As a coach, she has seen enrollment increase by thirty-three percent, and the institution of a male league. MYV Director Chuck Pruitt said, "Kate's enthusiasm and commitment kept the teams engaged and eager to play."
Meredith Harris and Madison Jones, also juniors at McLean High School, became a winning duo for their management of a swim-a-thon that raised funds for Friends of Homeless Animals. As co-chairs, they were responsible for everything from permission slips and collecting donations to swimming in the event itself. For Meredith, hard work was met with reward when she saw the shelter "taking such good care of the animals," and remembered finding her own dog, Lacy, there. Meredith also tutors neighborhood children, while Madison coaches at MYV as well.
"There's a community out there."

— Madison Jones, Teen Character Award Recipient
The Teen Character Award was a benchmark of three years of service for Megan Ganley, a senior at Thomas Jefferson High School. After finding numerous winter jackets unclaimed in her school's Lost and Found, Megan created "Lost and Refound" to deliver, wash, and repackage the coats for FCPS Title 1 schools. She's become a natural leader, and her initiative a positive (and warm) influence.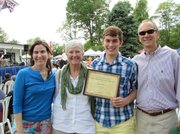 Alex Pfadenhauer and John Worm, a senior and junior at Langley High School, brought their technical skills and friendliness together in their service. Since 2011, Alex refurbished 128 computers and revolutionized the organizational framework of SHARE, which supports needy families in the area. Meanwhile, John connected with residents and staff in Vinson Hall, the Navy assisted living center in McLean. "My dad was in the army," John commented, "Those people could have been my parents. Knowing that makes every experience more meaningful."
The awardees learned, as Madison reflected, "There's a community out there."