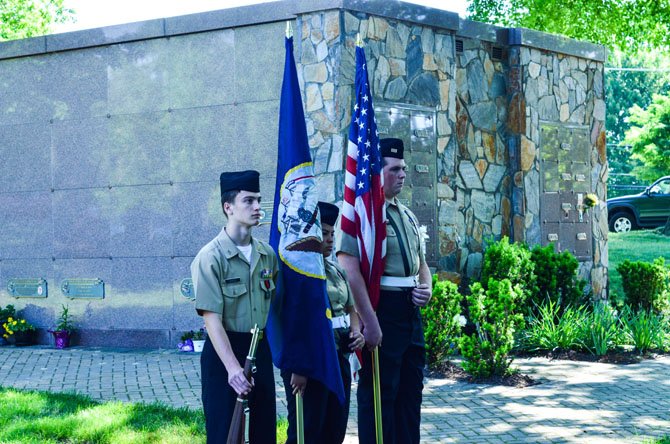 Residents of Herndon and local dignitaries gathered at Chestnut Grove Cemetery Monday, May 26, to commemorate Memorial Day. The annual ceremony featured members of the American Legion, Herndon High School Naval JROTC and guest speaker Colonel Milford H. Beagle, Jr. of the US Army.
Local Boy Scout packs from the Powhatan District which covers northwest Fairfax County were also there to attend the event. "It is our civic duty to come out and remember the fallen," said Herndon resident and scoutmaster Roger Claff. Claff was attending the event with his wife Ellen and scouts from Boy Scout Troop 1570.
Herndon councilmember and commander of American Legion Post 184 David Kirby welcomed everyone to the event. "We remember those who are no longer with us because of their sacrifice for freedom," said Kirby. "This is why Memorial Day is so important, we honor men and women who lost their lives serving from the War for Independence to the War on Terrorism… Americans must remember freedom is not free."
Guest speaker Colonel Beagle gave a brief presentation on Memorial Day. Beagle entered into the US Army in 1990 after being commissioned as Infantry officer. "If I were to ask you what you forgot today, what would your answer be?" asked Beagle. "If you were asked what you would remember what would your answer be?" These questions built into Beagle's message that the idea of Memorial Day was something the public could continue every day of the week. Also attending the event were Beagle's family. "This is the highlight of my day for me and my family," said Beagle. Colonel Beagle has had multiple deployments to Iraq and Afghanistan, and this June will take command of the 193rd Infantry Brigade.
Both Colonel Beagle and Post Commander Kirby laid wreaths on the graves of unknown soldiers at the cemetery, and Post 184 legionnaire Eric Claunch preformed a sounding of "taps." "Today's ceremony reminds us of the importance of service and how many have made the ultimate sacrifice to preserve our freedom," stated Town of Herndon Councilmember Grace Han Wolf. "As today's speaker said, we need to honor and remember our military service members and their families every day, not just on Memorial Day." Also attending the event was Herndon councilmember Sheila Olem and Jennifer Baker who will be assuming position of Herndon Vice Mayor.
Members of the Herndon Naval Junior ROTC helped prepare the annual Avenue of Flags in the cemetery. The major road was lined with 60 American flags, casket flags on loan from families of deceased veterans. Chestnut Grove Cemetery, located at 831 Dranesville Road in Herndon, is a community heritage resource, providing 25 acres as an active historic cemetery. "The turnout was fantastic," said Herndon resident Richard Downer who attended the morning event. "Everyone did a wonderful job."
The American Legion, sometimes referred to as simply The Legion, is a veterans organization providing financial, social, and emotional support to members of the United States Armed Forces, veterans, and their dependents. To learn more about the American Legion and local chapters, visit www.legion.org.