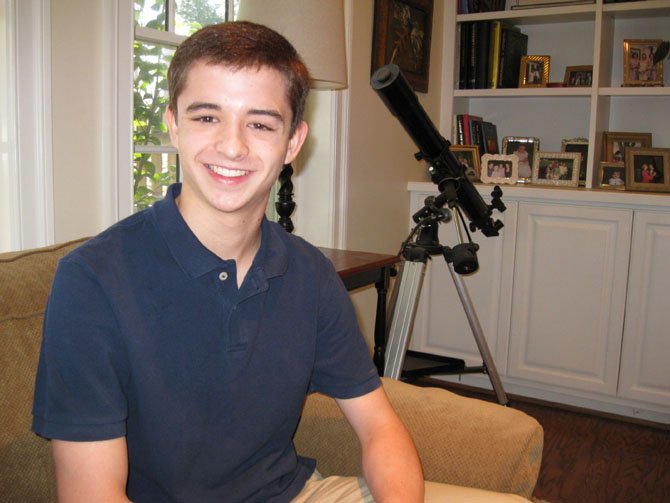 With the 70th anniversary of D-day this year, Andrew Beam, 17, of Arlington will be participating in The National WWII Museum's Student Leadership Academy – a Summer Residential Program in New Orleans that will take him through the history of WWII with the aim of exploring leadership lessons. This seven-day program immerses students in the museum's exhibits, artifacts, images and documents with structured Leadership Lesson Debates along the way.The junior at Yorktown High School with a 4.1 GPA will experience what it was like to be a member of a five-man crew inside a Sherman tank, inspect the flight logs of a bomber pilot and handle the gear of an infantryman in WWII.Last summer he participated in the National WWII Museum's Normandy Academy in France, a summer study-abroad program that challenges students with the same decisions as generals, officers and soldiers during the D-Day invasions. The 14-day, leadership-themed program, began in the exhibits, archives and warehouses of The National WWII Museum in New Orleans and ended in the American Cemetery overlooking Omaha Beach, Normandy. In between, Beam was able to visit battle sites, interact with French citizens and tour monuments and museums. "I think the biggest benefits for students is they're getting a program designed with history … We're able to provide a more in-depth and behind-the-scenes look at Normandy. We're able to go to Brecourt Manor, where the movie, 'Band of Brothers' was filmed," said Nathan Huegen, assistant director of education at the National WWII Museum.In terms of learning opportunities, each student is given a specific scenario to study as it relates to D-Day. Some students look at when to invade — say, during high tide or low tide — what decisions are made and the consequences of those decisions, Huegen added.
WHILE IN NEW ORLEANS, Andrew took a VIP tour of the WWII museum, went inside a tank and airplane, held the soldiers' uniforms, firearms, and helmets, and saw the vehicles used in battles. He also read through primary-source documents, including scrapbooks and high school yearbooks."Actually seeing them and holding them put it all into perspective," said Andrew, the son of Bruce and Margaret Beam. "The most fun was just being able to see all of the artifacts … the firearms and the tanks … I've always liked that sort of stuff since I was young."Andrew also researched a soldier named Russell B. Dillard of the 82nd Airborne from southern Virginia, who died in Normandy. "We wrote an essay and a eulogy," he added. … "I got to go through the scrapbooks of one of the soldiers from [the movie] 'Band of Brothers.'"While in Normandy, he visited five beaches and multiple museums — including the Omaha, Utah and Pegasus Bridge museum. "A lot of the facts, I already knew, but actually seeing the stuff was fascinating to me," he said."On Omaha Beach, there were bunkers everywhere," he said. "And tons of it is still there. They still have the craters. It was very fascinating."
ONE OF THE TRIP'S highlights was meeting an old French Resistance member in his 90s who spoke English. "He told us how he met the American forces," he said."(The program) could not be more tailored for Andrew's interests," said his mom Margaret, who is the chairman of the board of Rivendell School in Arlington. She said Andrew has always loved military history — especially World War II history. "He was able to see some of the places he had been reading about for years."She said next summer he'll be able to study the artifacts from the Pacific and European Arena where the focus will be on the strategies and decision-making of the military leadership. "I think it will be good for him to be able to have that mile-high view," she added. "… what impacted their decisions, what worked and what didn't work … It will be studying the strategy and also taking tours locally."At Yorktown, Andrew also runs cross country and track (800 and 1,600 meters). He hopes to attend Virginia Tech where he plans to study aeronautical engineering, take part in ROTC and eventually join the Navy. He has two sisters: Meredith, 14, and Olivia, 12.