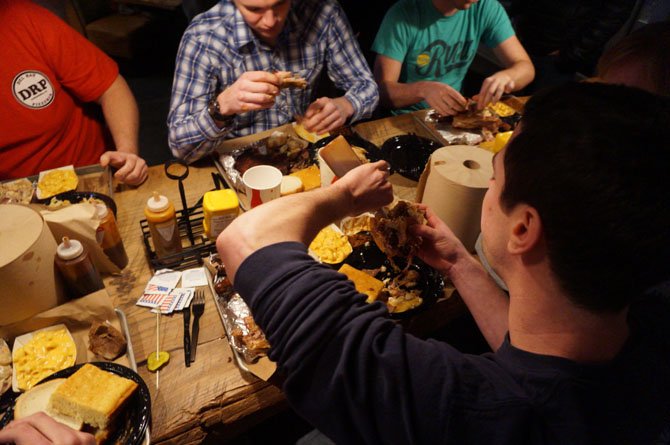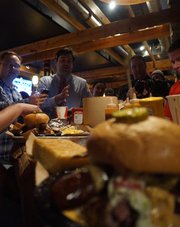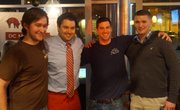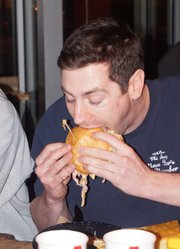 Skinny jeans were nowhere to be found as five contestants bellied up to the bar at Del Ray's Pork Barrel BBQ Jan. 29 to compete in the second annual High on the Hog Challenge as part of Meat Week 2014.
"This is our second year hosting the High on the Hog Challenge," said Pork Barrel BBQ co-owner Bill Blackburn. "But we have participated in Meat Week since its inception."
Started in 2005 in Tallahassee, Fla., Meat Week is a nationwide celebration of traditional American BBQ. Beginning the last Sunday in January, participating cities schedule nightly visits to various restaurants with the culmination being a BBQ feast on Super Bowl Sunday.
Competitors in this year's challenge were tasked with eating nearly four pounds of food in 45 minutes. On the menu: a Big Daddy Sandwich (1/2 pound of pulled pork, brisket sausage, cheese sauce, coleslaw and BBQ sauce), a slab of ribs, two sausages, a side each of mac and cheese, baked beans and coleslaw, and a wedge of cornbread.
"We didn't have a winner this year," Blackburn said. "Our contestant from Kentucky, Jake Barker, came close but not close enough. He couldn't quite finish in under 45 minutes."
Contestants paid a $25 entry fee, all of which was donated to Operation BBQ Relief, a 501(c)3 nonprofit disaster relief organization that deploys BBQ teams to feed displaced families and emergency personnel in areas stricken by natural disaster.
"We also donated a portion of the evening's sales to OBR as well," said Pork Barrel BBQ founder Heath Hall. "So even though we didn't have a High on the Hog winner this year, everyone who participated and came in to support us helped support OBR and their relief missions across the country. It was a good night to celebrate BBQ."
More like this story