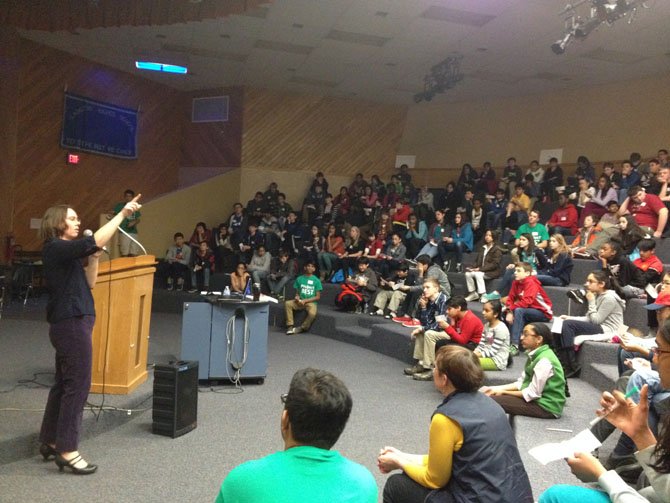 Thomas Jefferson High School senior Robert Young peered over a table of middle-schoolers gathered in a cafeteria on Saturday morning to observe their progress dissecting a brain made of Jell-O. The students' mission in this activity was to simulate a precise act of brain surgery, using only tweezers and the steadiness of their hands.
The brain dissection simulation was just one activity in an entire lineup at the 2014 Science Innovation and Inspiration Youth Conference on Saturday, March 1 at Langston Hughes Middle School. Project BEST, a nonprofit organization started by five Thomas Jefferson juniors in 2013 dedicated to promoting fun in science, technology, engineering, and math (STEM) education, hosted the conference for middle school students from around Fairfax County. (The "BEST" in their name stands for "Building Excitement for Science and Technology.")
"Going to TJ, we've had a lot of great opportunities, especially in science and technology. We really felt that the best way to learn in these subjects is through hands on activities," said Young, co-founder and chief operations officer for Project BEST.
Principal founder Parth Chopra said that his approach when starting Project BEST had to do with taking some of the focus away from the heavy memorization involved in learning science subjects to concentrate on the fun of STEM subjects.
"By actually being able to learn with hands-on activities, students can learn the STEM concepts. They're not just memorizing concepts, they're actually learning," said Chopra.

Project BEST has spread quickly as an appealing extracurricular group at 14 middle schools in Fairfax County. Schools in Virginia Beach and even Kansas have also started their own chapters, according to Chopra.
In addition to science-themed activities, the event also featured engineers and doctors from Northrop Grumman, one of the organization's corporate sponsors, L-3 Unmanned Systems, Microsoft, and Janera Farm Research Campus.
Dr. Roian Egnor, a behavioral scientist and Fellow at Janelia Farm, captivated her audience with stories about working with animals ranging from mice to seals and owls all over the world. Her presentation focused on sound identifiers and the ways that vocalizations carry social information for a variety of creatures.

"You're wandering through the world and building up your library of sounds," said Egnor to the group of about 150 middle school students.

After her lecture, Dr. Egnor spoke of how impressed she was with the questions some students posed to her, calling it a good sign for the future scientists in the audience.
"The key to being a good scientist is wanting to know the answer to a question. I think most of the scientists that I know are extremely enamored with the beauty of the world," said Egnor.
From speaking to students who attended the Saturday workshop, it appeared that Egnor helped Project BEST to spread their goal for students to be curious and explore fun ways to pursue science.
"This kind of event helps us all to try new things," said Dillon Davenport, a student at Lanier Middle School in Fairfax. "We can choose from a variety of things of what we might want to do when we're older."
Dr. Egnor noted that it was due to having great teachers and mentors when she was young that she was able to be successful today. Both Young and Chopra echoed what her words about the importance of becoming inspired early on, and clearly it has paid off for them. Young has been accepted to both Harvard and Yale for Fall 2014 and is still deciding, while Chopra has committed to studying computer science, engineering and business at the University of Pennsylvania.

"One great teacher is all it takes to get inspired with a subject," said Young. "Sometimes students don't have that teacher, so we can be that for them and get them excited about learning more about science."