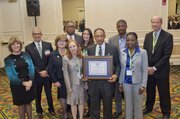 Alexandria — This year the Alexandria Redevelopment and Housing Authority (ARHA) celebrates 75 years of service in the community. From its inception in 1939, the organization has provided affordable and low income housing and services, to thousands of families and spearheaded millions of dollars in redevelopment projects in the City of Alexandria.
ARHA will celebrate its anniversary with resident success stories, share history of the independent agency and highlight past and current projects throughout the year as illustrated in the accompanying photos. ARHA invests not only in affordable housing but equally into the people who reside in the housing with its social services department.
Alexandria Redevelopment & Housing Authority was established on June 27, 1939 by City Ordinance and mayoral appointment of a five-member board of commissioners in accordance with Virginia enabling legislation. The first low-rent housing units were occupied in 1941. For the last 75-years, ARHA have provided adequate and affordable housing, economic opportunities and a suitable living environment, free from discrimination, for the citizens of Alexandria.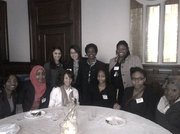 ARHA's mission is to be an industry leader in the development and management of model mixed income communities that provide the opportunity for residents to achieve self-sufficiency and to participate in economic opportunities that are made possible through this model.
Alexandria Redevelopment and Housing Authority is a public agency that preserves affordable housing opportunities for Alexandria's low-income residents by providing safe and sanitary living conditions. The agency also provides educational and career advancement opportunities to residents through various social and resident service programs.
For more information about how ARHA will celebrate its 75th Anniversary contact McKenya Dilworth, communication consultant at 703-549-7115 ext. 420.