Vienna floral designer Bryan Swann of Karin's Florist recently took home the title of All-Stars Champion in VaseOff!, a nationwide design competition hosted by the Society of American Florists (SAF).
In May, Swann was selected as a final contestant and tasked with creating an arrangement that inspires a friend to live life to the fullest, depicting the notion, "Live Colorfully – Dare to be Different."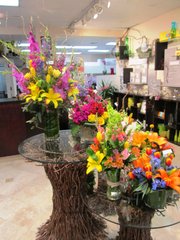 "A dear friend taught me one of the best life lessons, which is to live every day to the fullest. Embrace life," Swann said, describing his floral arrangement. "As floral artists, we are able to convey that lesson through the beauty of flowers. I have always loved the inherent energy that is found in the colors of hot pink, purple and coral. I started my design by creating a box with the liatris and then wove the other elements throughout this forest of liatris to bring the design Outta the Box!"
His bold design wowed voters.
National flower enthusiasts, bloggers, and florists who participated in the online competition posted glowing comments about Swann's entry: "This arrangement sends a message of true taste and beauty. Class, consistency and creativity." Another comment reads, "WOW! Love the colors, choice of flowers, the design and execution, but the little detail of the finely woven 'ribbon' of grass really pushes this over the top for me!"
Swann competed with four previous VaseOff! Challenge winners from across the nation.
Hosted by AboutFlowersBlog.com, the VaseOff! competition gave the opportunity for visitors to vote on their favorite arrangement from May 15-29—with SAF announcing Swann as the winner on May 30.
"We are so proud of Bryan to represent Karin's Florist in this competition," said Maris Angolia, Karin's Florist President.
"His 'Outta The Box' arrangement exemplifies what Karin's is all about: our arrangements come from deep-within to exude 'unboxed' feelings of happiness. We also would like to thank our community, both locally and the floral community for their votes and unwavering support. We are very fortunate to be around such beauty and talent in the industry we love."
Founded in 1956, Karin's Florist has been a staple in the Northern Virginia community for over 58 years. Karin's is a full-service florist, specializing in flower delivery, floral designs, weddings, gift baskets, and events. Karin's Florist also boasts an online store at KarinsFlorist.com, with fresh selections of flowers, beautifully arranged by our own award-winning floral designers.
Karin's Florist has been recently awarded: • Best Florist in America – Steve Harvey Show • Best Florist in NoVA –Northern VA Magazine • Best Florist of Fairfax – SunGazette • Couples' Choice Award – Wedding Wire • 2014 Champion – VaseOff! All-Stars Challenge.