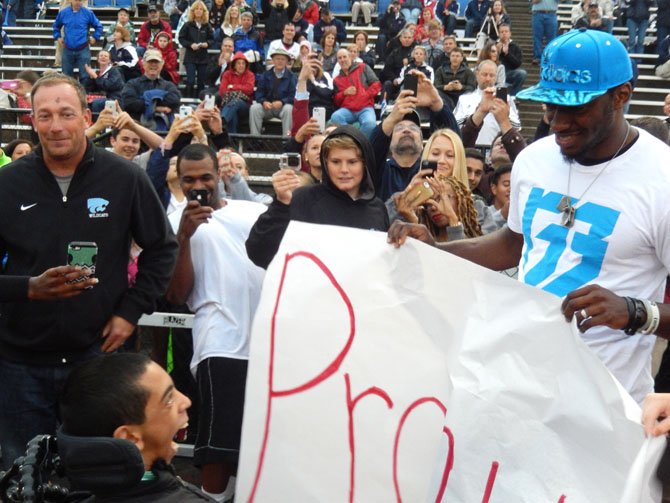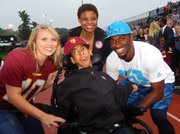 Born with cerebral palsy and wheelchair-bound, Juwaan Espinal, 17, is unable to speak. But he literally squealed with delight and had a smile that wouldn't quit, last week, when he got the surprise of his life.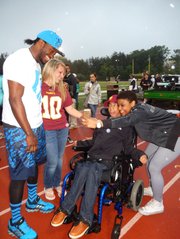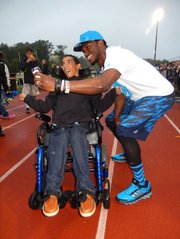 Not only was the Centreville High junior invited to his school's prom in a special and very public way, but he was visited by his hero, Washington Redskins quarterback Robert Griffin III.
It all played out last Thursday night, May 29, on the Wildcats' track, between quarters of a lacrosse tournament. And a testament to how beloved Juwaan is by his classmates is that, when RGIII suddenly appeared, instead of pointing their Smartphone cameras at the football star, the students took photos of Juwaan's reaction.
"He's done a lot to uplift his school's football team and support this community, and you can tell how much he means to everyone," said Griffin. "He's filled with life, and it's truly humbling and a blessing to come out and honor a kid like him."
Born at only 5 months gestation, Juwaan weighed 2 pounds, 12 ounces at delivery. "But he was a little fighter," said his mother, Ibis Espinal of Centreville's Centre Ridge community. And as he grew up, he loved sports.
A huge football fan, Juwaan has been unofficially adopted by both the Wildcat varsity and freshman football teams and has a slew of friends at school. And although he can't communicate with them verbally, they regularly "talk" via Facebook and text each other.
"These kids at Centreville are amazing," said Espinal. "Friendships have blossomed between them, they eat lunch together and they've really been nice to him. And when he was in the hospital in September [2013] for back surgery, members of the football teams sent him videos."
Centreville's prom is this Saturday, June 7, at the Reston Sheraton and, like his classmates, Juwaan wanted to attend, too. "But he didn't want to go there with his aide, but in a group," said good friend Morgan Assel, a junior who met Juwaan through football and SGA.

So last Thursday, she asked him to go with her and planned to ask about 30 of his friends — including his best friend, Mike Wallace — to accompany them. While Juwann, his mother and older sister Shanelle watched, students walked toward him on the track carrying a gigantic sign saying, "I know I'm not as cool as RGIII, but will you go to …"
Then behind it came three people holding a banner saying, "prom with me?" Carrying it were Assel, Griffin and U.S. Olympic fencer Nzingha Prescod. The crowd in the stands erupted in cheers and Juwaan beamed with happiness and joy.
Afteward, both Prescod and Griffin visited with him, staying by his side for nearly an hour. They gave him gifts and Griffin even took off the RGIII-logo T-shirt he was wearing, autographed it, and presented it to Juwaan along with an RGIII-logo cap in Redskin red.
Prescod explained how it all came about. She and Griffin met at the White House Easter Egg Hunt, earlier this year, and Assel took note when Prescod posted a photo of it on social media. The teen then contacted her.
"Morgan wrote on my Instagram and told me about Juwaan," said Prescod. "She said, 'I see you know RGIII. Would you contact him and see if he'd like to come to Centreville with you?' So I did, and he said, 'Of course.'"
Prescod was in the 2012 Olympics and is currently training to qualify for the 2015 U.S. team. "I'm from Brooklyn, N.Y., so I drove five hours to get here," she said. "But I'm happy to be here, seeing how happy Juwaan is."
Griffin, too, was delighted to be part of Juwaan's surprise, and it was obvious that the young man made a big impression on him. "Nzingha gave him an Olympic-logo water bottle, and I gave him gifts of a hat, socks and an autographed shirt," said Griffin. "But he really gave us the gift by our being able to be here and see his reaction."
"He's a gift to his community, and it won't be my last visit here," continued Griffin. "We'll have him out to the stadium, too, and give him a front-row seat on the sidelines to see a Redskins football game."
Thrilled with how things worked out last week, Assel said, "I love Juwaan because he's not special-needs — he's a special person. And even though he's facing adversity, he remains positive — which, in my opinion, is remarkable. We've been bowling, we talk almost every day and we eat lunch together in the SGA room with some of the football players. And for his birthday [May 22], we took him to Chipotle for dinner."
Basically, she said, "Juwaan's just the nicest kid; he's never sad and he always smiles. He's taught me that you just have to take life with a grain of salt. And you shouldn't let it bring you down, because you can change your situation with a positive attitude."