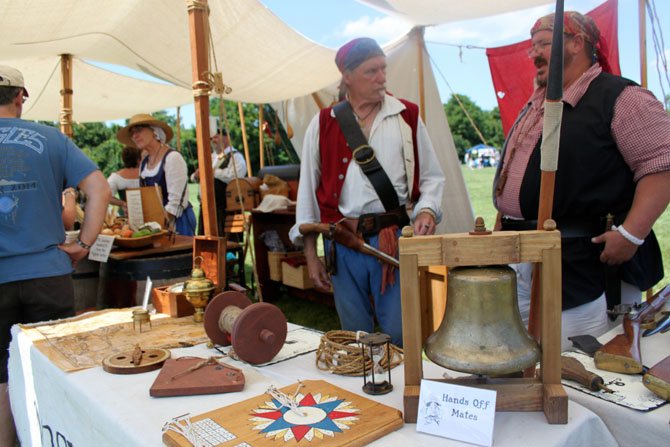 Caitlin Stedt, 7, had her favorite pirate shirt on and a plastic sword, ready to take on Lake Fairfax's inaugural Pirate Fest.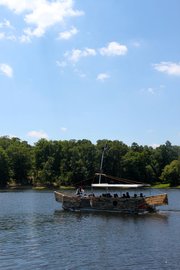 She and hundreds of other children and adults spent the day being regaled with pirate puppet tales and seeing replicas of pirate ships on Saturday for the family-friendly fete.
"I like pirates, and I like to read about them," said Caitlin, of Burke. "I liked the bounce house."
She talked about her trip to Disney World and her love for all things pirate related.
"These guys just love pirates, as you can see," said her mother, Elaine Stedt.
Event organizer Tammy Schwab, manager of Education and Outreach for the Research Management for the Parks Authority, said she was happily surprised with the number of people who showed up for the festival.
"We're at the point where we're half way through the day, and we're running out of things," she said.
The event was set up like a port town. Even the games had to be paid in doubloons rather than with cash.
"The idea is that the pirates go get their share of the loot and come here to spend it," she said.
She said the bounce house and the puppet show were the most popular parts of the event. By midday, there already had been a costume contest. People dressed up in seafaring garb were all over the event grounds.
"I'm excited because we have so many families dressed up together," she said.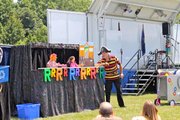 Elizabeth Grafelman, 5, and her dad, Tebben, traveled from Arlington dressed as sailors.
"My favorite parts are the bouncy house and the obstacle course," she said. "I liked dressing up as a pirate and the treasure hunt and making a flag."
The festival had an educational side to it as well. In the middle of the event field was a tent with reproductions of 17th and 18th century goods, including spices, oil lamps, treasure maps and compasses.
Although the festival was short of volunteers just a month ago, Schwab said she ended up with 75 to 100 volunteers for the day to man the games and talk to the children in pirate speak.
"We probably had 25 to 30 staff members here as well," she said.
She sees the event continuing after this year, getting bigger with each passing summer.
"We're going to be looking for sponsors so we can expand next year," she said.