On Sunday, July 13, the South Run Community Pool held their annual Swim-a-Thon charity event to raise funds and awareness for cancer, a cause that runs deep through this close-knit neighborhood community. On what felt like the hottest day of the summer thus far, participants gradually streamed in to partake in the 7th iteration of the Swim-a-Thon, which was coordinated this year by friends Ryan Kelly, Liam Kelly, Nick Porter, Michael Murphy, and Jordan Krug, all members of the South Run swim team.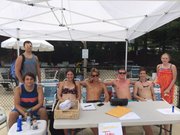 With a tent and table set up in the corner of the pool deck to collect donations, dozens of people blanketed the pool, swimming laps "for the cure," with proceeds going to INOVA hospital's "Life with Cancer" program. After people finished swimming, they recorded the number of laps they swam, and helped themselves to a snack and a cold beverage. This year, 31 people swam a total of 1,270 laps, and donated almost $1,500 on the day of the event, with money still being collected.
Swim-a-Thon was created as a way to engage the community in the fight against cancer; a fight that has deeply affected many South Run families over the years. Given another successful iteration of this event, the South Run community seems to be keeping that fight alive one stroke at a time.