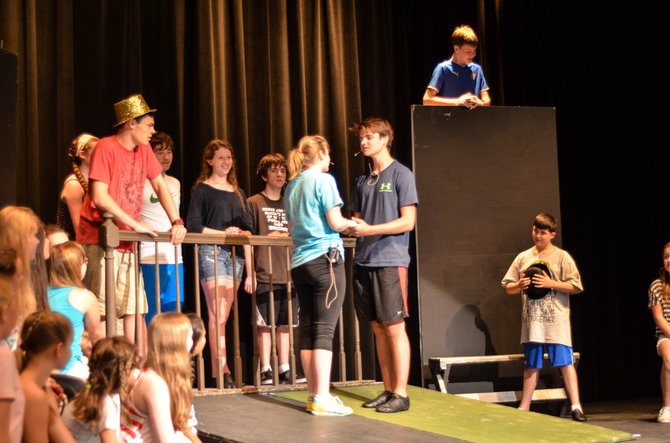 The first week of August the Grand Musical Theatre Experience returns to Herndon High School with a production of the musical "Hello Dolly!" Last year, the production was of "Bye Bye Birdie." To promote the production, members of the cast sang several songs during an intermission at Herndon Friday Night Live on July 18. Directing the production is Herndon High drama teacher Zoë Dillard. The Grand attracts students from schools across the area, ranging from rising seventh graders to recent high school graduates.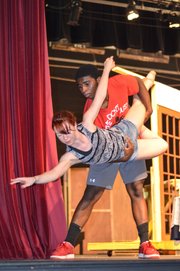 Dana Van Slyke is musical director for this production, with her husband Jim Van Slyke directing the concert musicians. Dana Van Slyke works at Herndon High as the school choral director. Launched in 2009, Herndon High School's Grand Summer Theatre has cast members audition in May and rehearsals begin in July. Camp day typically runs Monday through Friday, from 10 a.m. until 3 p.m., and includes sessions in acting, dance/movement and singing.
"This is my first time doing 'Hello Dolly!'" said Dana Van Slyke. "It is a wonderful classic and one of the fun things are the big music numbers which include the whole crew." In addition to a cast of over 50 persons, there will be a full pit orchestra of Herndon High students and adult community members. "We have a great cast," said Solomon Dixon who graduated this year from Herndon High. "Everybody is perfect for the parts they have. I am excited to be part of this." Dixon intends to study performing arts at Virginia Commonwealth University.
Choreography plays a big part in this production. For two weeks Colby Dezelick planned out the choreography moves with the cast. "Colby was in the first Grand Summer Theatre production," said Dillard. "It is exciting to see kids who were in this program when it began now participating as staff." Helping with the dance moves is rising senior at Chantilly High Alycia Adams. "I help people remember the dance steps," said Adams.
The story of "Hello Dolly!" Is a meddlesome widow who strives to bring romance to several couples and herself in 1890s New York City. Cast as antagonist Horace Vandergelder is rising Herndon senior Drew Lytle. "Horace's way of life has made him a bitter old man who does not believe in love," said Lytle. "This production puts him in situations where there is room for a lot of comic relief."
Playing Dolly Levi is Courtney Leipertz. "The musical is about a woman who is struggling to be the person she used to be," said Leipertz. A recent graduate from Freedom High School in South Riding, Leipertz intends to study music education at James Madison University. Playing Ermengarde is Allie Lytle, a rising freshman at Herndon High. "I think it is a great musical and I believe as a cast we will definitely be able to put on a great show," said Lytle. "The musical is more of a comedic drama, you will definitely be laughing during this show."
Cast as Cornelius Hackl is rising Herndon High junior Nathan Burns. "I am really enjoying this role because of the new challenges it brings as a singer," said Burns. "When we are all on stage it looks amazing… also the younger kids make the production so much more fun for the energy they bring to the stage."
"I love working with the students and with Mrs. Van Slyke," said Ms. Dillard. "She is a musical surgeon and always does such a great job. I have really enjoyed collaborating with her."
Performances of "Hello Dolly!" will be Aug. 1 and 2 at 7:30 p.m. and Aug. 3 at 2 p.m. at the Herndon High auditorium. For more information on Herndon High drama and the summer theatre production visit www.herndondrama.org.