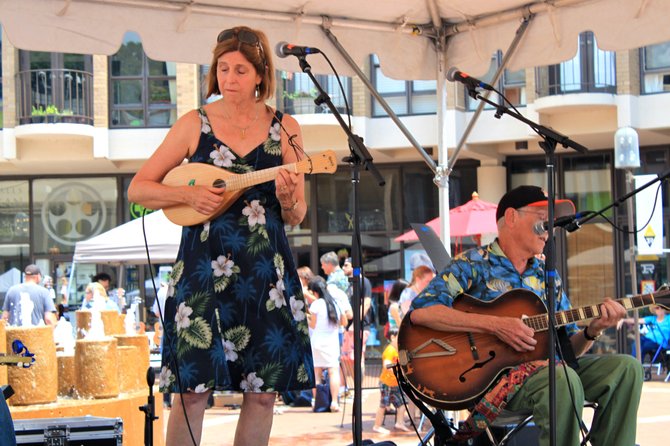 Reston experienced a slice of Hawaiian spirit on Saturday.
Lake Anne's fifth annual Ukulele Festival brought out music lovers from all over the D.C.-metro area to the plaza to listen to live music, learn to play a Beatles tune or two and pick up a ukulele for those feeling inspired.
"We started this morning with three workshops on how to play Beatles music on the ukulele."

-- Stage manager Ann Granger
"The purpose of the festival is to showcase the ukulele, the versatility of the ukulele," said festival stage manager Ann Granger. "We started this morning with three workshops on how to play Beatles music on the ukulele."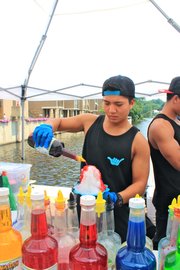 The festival was created from a tongue and cheek joke from resident Eve Thompson, who runs the craft market during the plaza's Saturday farmers market. Thompson said after she realized there was a growing ukulele community in Reston, it would be a great opportunity to create a festival.
"The farmers market is a regular Saturday thing, so we always try to coexist," she said. "The proceeds from the market help to run these music festivals."
In addition to the craft and farmers market, several shaved ice stands and ukulele hawkers surrounded the scene, giving visitors the illusion they were in Hawaii for the day.
She said the festival is a great way to bring non-Restonians into the community. Many of the people watching the performers drove up to an hour to the unique festival.
Randy Dalnekoff from Maryland said the festival inspired him to buy a ukulele and learn to play about three years ago. He now performs short sets around Columbia.
"I wanted to come back, because one of the draws for me this year was learning to play Beatles songs," he said.
Becky Schneider, Warrington, said she has been playing the ukulele for three years but mostly from the comfort of her own home.
"It's a casual instrument, so you can just pick it up and play it," she said. I literally bought one on the Internet and started playing it. Taught myself."
When she found out there was a ukulele festival within driving distance, she could not pass up the opportunity to go.
"I drove out, because how often do you get to go to a ukulele festival," she said.