Whether you need swim lessons, tennis lessons, a place to work, or just a fun spot to hang out at during the summer, Vienna Woods Swim and Tennis Club has fun for the whole family.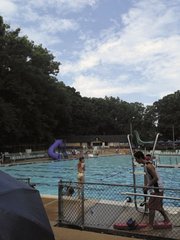 Established in 1959, this summer spot is home away from home for 750 members and an array of staff members. It is conveniently located in Vienna and very easy for residents to get to. The club is equipped with pool slides, high dives, diving boards, a snack bar and a baby pool.
"There is great family atmosphere that has always been a part of Vienna Woods. It's conveniently located; most people can walk here from their homes. Most of our lifeguards, tennis coaches and snack bar workers are home grown kids that grew up at Vienna Woods," said Manager Nancy Wanzer. Vienna Woods offers an array of different choices like swim team, tennis team, dive team, group swim lessons and private swim lessons for all ages.
Going along with the more family oriented style of this pool, Vienna Woods hosts different events like Family Day, Picnic under the Stars, the Annual Crab Feast and a Kids Day for children who have received their patch.
Veteran front desk worker Ben Jackson says, "I've worked here for three summers now. My favorite thing about working here are the people, especially the kids. The atmosphere at Vienna Woods is great."
Vienna Woods is the only pool in the area with a three meter high dive. The club also had a recent renovation to make the pool ADA compliant to ensure that everyone can have a safe, fun summer.