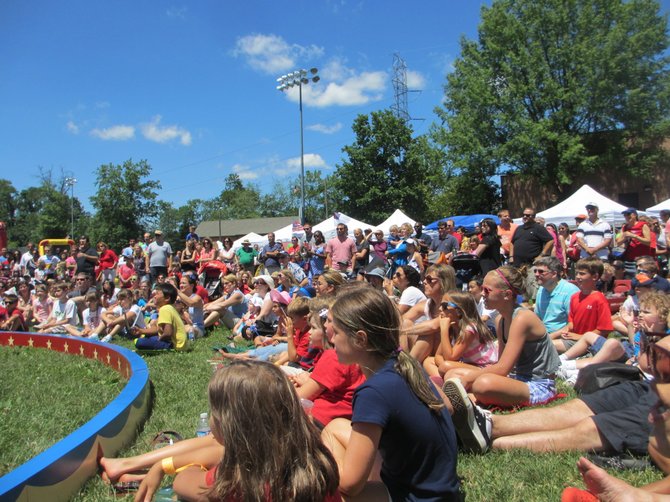 The weather could not have cooperated more had the Town of Vienna scripted and directed it for the town's annual 4th of July celebration. The sunny blue sky and light breeze inspired residents to hang around listening to beach party music, ooh-ing over the circus show's two performances, waiting a turn to climb into an inflatable, drink beer, eat American and international foods, browse for crafts and muse over classic cars. At night, the Town of Vienna presented a dazzling fireworks display at Southside Park. Earlier in the evening, Vienna's favorite pop band Fat Chance performed at Yeonas Park for two hours.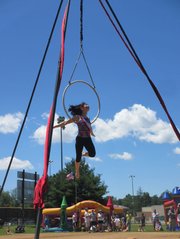 "I like that the whole community comes together, not just residents, but employees, as well, to celebrate a wonderful day in American history," said Joy Harrington, strolling with her husband Brian, and 18-month-old daughter Isabella.
If rapt attention by hundreds of families is an accurate measurement, then, the highlight of the 2014 festival was the Old Bay Circus Show, a one-ring cornucopia of aerial performances, light-hearted banter, stunts and juggling. And not just any wimpy juggling, either … Ringmaster and master-juggler Michael Rosman juggled multiples of long-knives, and, with his son, Ethan, the duo juggled three flaming torches each. Michael Rosman is not ranked the number-five juggler in the U.S. by "Juggle" magazine for nothing.
On the fields adjacent to the community center, a half-dozen inflatables served young children and toddlers. Over on Cherry Street, food vendors set up, selling ice cream and hand-held meals. As is traditional, competitors in the annual chili cook-off were giving samples of their chili. Donations go to the Vienna Volunteer Fire Department.
Once again, Vienna's American Legion Post 180 sold beer near the stage where Jimmy Buffett tribute band, B2B, performed for four hours. Classic automobiles sat gleaming in the front parking lot, and, inside the community center gym, dozens of crafters had set up tables selling everything from glass and fabric arts to hair accessories and jewelry.
"What I love about this [festival] is the people," said U.S. Representative Gerry Connolly (D-11), roaming the festival. "This is a vibrant, dynamic community, warm and welcoming to everyone.
"I love the sense of camaraderie and inclusion here."