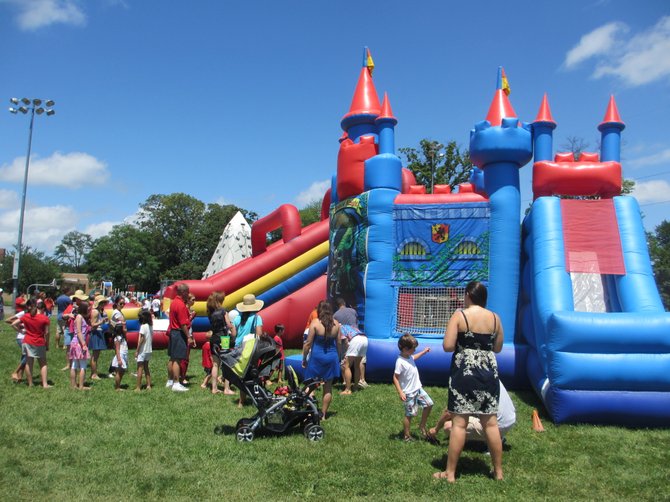 Town of Vienna 4th of July Festival and Fireworks Display
Festival runs from 11 a.m. to 4 p. m., Friday, July 4;
Pooches on Parade: registration 10:30 a.m., parade at 11 a.m.;
Presentation of the Colors – Vienna Police Honor Guard, noon;
Vienna Community Band plays in gazebo 11 a.m. to 12:15 p.m.; 12:15 to 4 p.m.,
Indoor arts and crafts show, chili cook-off, food vendors, beer sales, antique and classic car show, and inflatables;
Old Bay Circus Show, one-ring circus, showtimes: 1:30 and 2:30 p.m. Kids' craft corner, 2 to 3 p.m.
Evening presentation: Yeonas Park, music by Fat Chance, 7 p.m.; Fireworks display, Southside Park (adjacent), 9:15 p.m. Little League concession stand open during evening festivities.
The Town of Vienna's annual 4th of July small-town festival and fireworks is one of the characteristics of Vienna that give it, well, its small-town feel. With live music, food vendors, craft vendors, inflatables and activities for children, beer tent, classic car show and pooch parade hugging the lawns and streets around the Vienna Community Center, it's downright nostalgia-inducing. Add night-time fireworks and a live band, as well as the new one-ring circus to the festival mix, and the community has pretty-much everything wrapped in one package.
"It's a family-focused event with something for everyone," said Town Recreation Program Coordinator Brandy Wyatt. "There's fantastic entertainment for all ages."
Back by popular demand this year is the Jimmy Buffett tribute band, B2B, playing popular beach-party songs. The American Legion Post 180 of Vienna sells beer from its tent, and along Cherry Street are food vendors and chili cook-off competitors.
The Old Bay Circus brings its one-ring show to the festival for the first-time ever. The 45-minute show, running at 1:30 and 2:30 p.m., features aerialists, unicycles, juggling and stunts. To make way for the circus, all crafters are inside the community center this year.
Pooches on Parade is co-sponsored by Hope Advanced Veterinary Center, Pet Lovers Companion and NOVA Dog magazine. Hope is providing water and a spray tent for dogs to keep them cool. Dogs dress up in patriotic gear as proud parents march them around Caffi Field infield.
Like the rest of the nation, the highlight of Independence Day festivities in Vienna is the dazzling display of fireworks shot into the skies at dark. "It's well-worth making your way down Cottage Street for the fireworks," said Wyatt. She noted that the park is always "packed" for the spectacular show and that everyone who comes to the display "loves" it. Local pop band Fat Chance performs from 7 p.m. at Yeonas Park. Fireworks light up the night beginning at 9:15 p.m. at Southside Park, adjacent to Yeonas. Vienna Little Leagues opens its concession stand for food sales.
"The 4th of July festival brings the community together every year, where neighbors can catch up, and long-lost acquaintances can re-unite," said Wyatt.