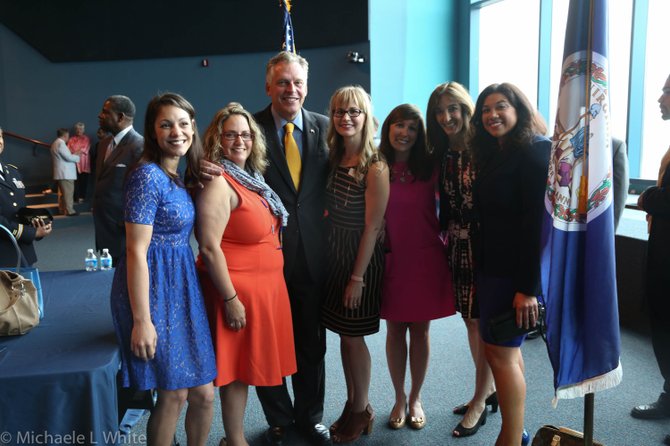 Governor Terry McAuliffe and Virginia Secretary of Veterans and Defense Affairs, Admiral John Harvey held a special ceremony to sign into law several pieces of legislation affecting the military community. Over ten pieces of legislation were signed into law during a ceremony held in Norfolk, Va. right outside of the USS Wisconsin. These pieces of legislation were passed during the 2014 General Assembly and took effect July 1.
Virginia has one of the largest active-military populations, second only to California and the most military civilians by state. Several of the bills focused on helping military families moving to the Commonwealth with their normal services and job transition. Among those were HB 1247 introduced by Del. Eileen Filler-Corn (D-41). HB 1247 requires the Department of Professional and Occupational Regulation to expedite the review process for temporary licenses for military spouses that already hold the equivalent license in another state.
Other legislation aimed to help military families and spouses were HB 576, increasing eligibility into Virginia Military Survivors and Dependents Education Program, SB138, increasing the grace period of vehicle safety inspection approval for certain members of armed services and SB18 which extends unemployment compensation to military spouses voluntarily leaving their job to accompany their spouse in reassignment.
"It was an honor to join my colleagues, the Governor and Admiral Harvey to sign these critically important pieces of legislation into law. I look forward to continuing to advocate for military families and I hope my bill eases the burdens on military spouses associated with reassignment," said Delegate Filler-Corn.