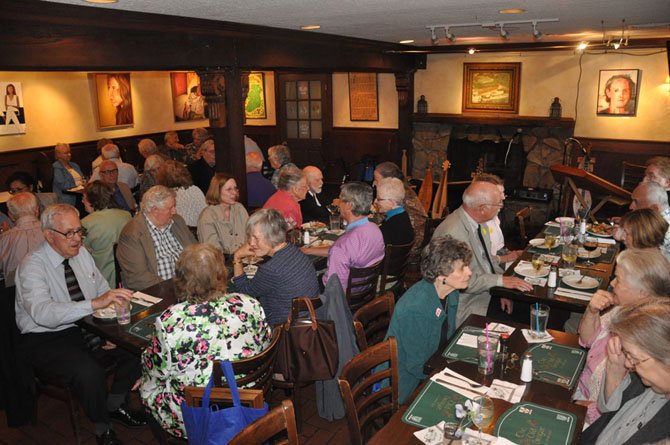 Winter Fun Activities in Great Falls
It's easy to stay in during these cold months thanks to snowy weather and the holidays, but every once in a while families need to get out of the house to enjoy themselves. Great Falls has plenty to offer for everyone, from live music and dancing to workshops about chocolate and making one's own maple syrup.
Here are some ideas to get you started for your winter fun plans:
Katie's Cars & Coffee
Take a ride over to Katie's Coffee House at 760 Walker Road between 6:30-9:30 a.m. Saturdays for some great coffee and a spectacular show of community residents' cars. You can find everything from sports cars to hot rods and polished historic vehicles. This is a great way to meet some of your neighbors and car enthusiasts from around Great Falls.
Winter Wine Tasting at River Bend Country Club
The Celebrate Great Falls Foundation is hosting a Winter Wine Tasting at the River Bend Country Club on Saturday, Feb. 22. Join your neighbors for an evening of wine, cheese and hors d'oeuvres at the country club, located at 375 Walker Road. Cost per ticket is $45.
"Pairing Premium Teas and Chocolates" at Colvin Run Mill
Learn about the delicate art of matching specific teas and chocolates at Colvin Run Mill on Saturday, Feb. 8. From 1-3 p.m., chef and tea specialist Laurie Bell will teach a class showing the differences between dark, milk, bittersweet, and other types of chocolates, and how they best match up with certain teas. Attendees will be able to try items out and take home a sampler of teas. Cost is $30 per person; call 703-759-2771 to register.
Read to the Dog at Great Falls Public Library
Have your little ones practice their reading by telling stories to their furry companions. Bring child and dog to the Great Falls Public Library on Mondays, Feb. 10 and 24, at 4:30p.m. to have your new readers practice their reading skills. Call the library at 703-757-8560 to reserve a spot.
Wagon Rides at Riverbend Park
Take a wagon ride led by park staff to the Corn Crib at 10 a.m. on Wednesday, Feb. 26, and enjoy children's activities a history lesson about the Great Falls in the 1900s. The park will also take riders to Poohsticks Bridge on Sunday, March 9 at 12 p.m while reading the stories of Winnie the Pooh. It's a way to get little ones outside to enjoy Riverbend Park in late February and early March. Cost is $5 per person in county. Call 703-222-4664 to reserve a spot.
Live Music at the Old Brogue
The town of Great Falls' own Irish pub has an endless list of live music acts performing on Friday and Saturday nights starting at 9 p.m. Come see the likes of "The Pocket Band" on Feb. 7, "The Walking Sticks" on Feb. 28 and "Doug Parks and the Lonewolves" on March 1. Concerts usually go from 9 p.m. to midnight. See the Old Brogue's updated calendar at www.oldbrogue.com for more listings.
Maple Syrup Boil-Down at Colvin Run Mill
Grab your family and bring them to historic Colvin Run Mill for a lesson in how to make maple syrup. Sundays on Feb. 9 and 23 and March 2, from 12-2p.m., instructors will tell how to sap maple trees for the syrup and boil it down to the final product. Enjoy the fruits of your labor afterward by trying the fresh made syrup over baked cornbread. Cost is $3 per person; no registration required.
Happy Birthday Dr. Seuss! Storytime event at Great Falls Public Library
Friday, Feb. 28 is Dr. Seuss' birthday. In celebration of the adventurous story teller's 110th birthday and Read Across America, Great Falls Public Library will be holding storytime for preschoolers and young readers from 11a.m.-2:30p.m.
The library will also have preschool storytime on Saturday, Feb. 8 Monday, Feb. 24, as well as Reading Buddies events where young readers can learn together with teens on Thursdays at 4:30 p.m. Call the library at 703-757-8560 for more information.
A Dance for Everyone at Colvin Run Mill Community Hall
Come ready to learn some new moves starting at 6:30 p.m., before Ed Cottrell's all-inclusive monthly dances on Saturday, Feb. 8 and March 1. A DJ will be playing a mix of contemporary and classic dance music, including west coast and east coast swing, hustle, Latin, waltz and more from 8-11:30 p.m. Cost is $12 per person, which includes lessons, entry fee to the dance and snacks. Call 703-435-5620 for more information.
Artists Meet for Coffee
Every Thursday morning, Great Falls artists meet for coffee at Katie's Coffee House. Come share the creative energy from 8:30-10 a.m. and introduce yourself to the local artist community.