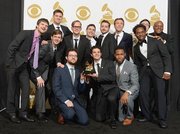 Sometimes, good guys do finish first — and Centreville High grad Michael League and his band Snarky Puppy are proof.
Besides making music, they pass on their knowledge to young musicians worldwide. And Sunday, Jan. 26, they won a Grammy award for Best R&B Performance.
The 56th Annual Grammy Awards ceremony was held that night at the Staples Center in Los Angeles. But earlier that day, Snarky Puppy was honored for its cover of Lalah Hathaway's song, "Somethin'."
"We've made seven albums and played over 1,000 shows," said League on Tuesday. "It really felt incredible to be on that stage with my musical family and to share in the joy of being recognized for our consistent, long-term effort."
Playing a mix of jazz, funk and world music, Snarky Puppy is a Brooklyn, N.Y.-based, instrumental-fusion band led by League, 29, an award-winning bassist, guitarist, composer, arranger and producer. He started the band 10 years ago while attending the University of North Texas.
It's comprised of about 40 musicians who play a variety of instruments ranging from guitars to pianos, keyboards, strings, woodwinds, percussion and brass. It's also become a trailblazer for fellow, independent-label artists.
Snarky Puppy performs its own music all over the world and, last year, it gave nearly 200 performances and workshops on four continents. The group's live DVD/CD, "GroundUP," hit number 14 on the Billboard jazz charts and shot to number three on the iTunes jazz charts. And its new release, "We Like it Here" — in homage to the 18 different countries the band's toured in Europe — drops Feb. 18.
In addition, Snarky Puppy functions as a production team and session band for other performers, including Justin Timberlake, Snoop Dogg and Erykah Badu. But what sets it apart from other bands is its community outreach and commitment to music education.
Believing in nurturing young talent, while on tour Snarky Puppy has held more than 100 workshops, music clinics and master classes for aspiring music students. They've done so in the U.S. and Canada, as well as in the Netherlands, Scotland, England, France, Belgium and Germany.
League's paying forward the lessons learned and experience received while he was a student at Centreville High. (See Q&A sidebar with League). He graduated in 2002, but he left his mark there and his teachers still remember him fondly. And they, too, are overjoyed at his success.
"We're all so thrilled for him," said Choral Director Lynne Babcock. "He was and still is an absolutely stellar human being. He's a hard worker, a wonderful young man and a consummate musician."
League played bass with Centreville's orchestra, jazz band and choir back-up band. He was also a four-year member of the Theater Department. "He was a great kid; we all adored him and loved working with him," said Babcock. "He was involved in pretty much every aspect of the Performing Arts program."
Besides that, she said, "He was kind, friendly with everyone, accepting and open-minded. He was really a special kid — even in high school, he behaved like a professional." She also recalled something that happened one year while he was playing back-up bass for one of her choirs during a choral competition.
Although it was a singing event, said Babcock, "The judges were so impressed with Michael that they took him aside and spoke with him and encouraged him to do something with his music in the future."
Now, League and his band have won national acclaim with their Grammy award and, said Babcock, "Everyone in the whole Performing Arts Department is really excited. "We're all so proud of him — he's very deserving of this honor."
His brother Patrick, another Centreville grad, plays 40 instruments and is currently working on his Ph.D in ethnomusicology (the study of ethnic music) at Harvard. Drummer and former Centreville High English teacher Ron Goad taught them both.
"Michael and his brother were two of my brightest and most well-mannered students at Centreville," he said. "They were both teenage musical prodigies and Michael's bass playing was extraordinary, even back then."
Goad said Michael also "played bass with some of us when he worked at Ben's Whole Hog BBQ in Manassas. He might be chopping meat behind the counter one minute and then accompanying various music acts, the next. Sometime I'd back up a singer on hand drums and Michael would jump in on bass. He didn't need to rehearse; his intuition was uncanny."
"Many musicians are happy to 'get through a song,' and they breathe a sigh of relief when they make it to the ending successfully," continued Goad. "But Michael toyed with the instrument with a whimsical exuberance that is rare."
Mom Sylvia League of Little Rocky Run says both her sons got their musical genes from her father. "My dad was an Army Air Corps band director in WWII for the 29th Infantry," she said. "He later became a high-school and elementary-school band director and a high-school choral director in Florida for 30 years."
Originally, though, said League, Michael was a guitar player until fate intervened. "Before his senior year at Centreville, they needed a bass player for jazz band," she said. "They had three guitarists, but no bass player."
So then Centreville Orchestra Director Cheryl Cooley gave him lessons that summer on the upright bass — and that turned out to be his forte. Later, instead of majoring in guitar jazz performance in college, he switched to bass — and the rest is history.
Sunday afternoon, rooting for her son and Snarky Puppy, Sylvia League watched the pre-Grammy Awards ceremony online. "They had a gig in Denver, Saturday night, flew to California and took a limo to the red carpet," she said. "Michael called right before the ceremony and asked me to thank all the family members for their encouraging e-mails and text messages."
When Snarky Puppy was announced the winner for Best R&B Performance, League was beside herself. "I screamed for a solid five minutes," she said. "I kept saying, 'Oh, my God, they won, they won, they won.' We're all so proud and just ecstatic."