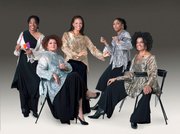 Reston Community Center presents the 29th Annual Reston Dr. Martin Luther King, Jr. Birthday Celebration on Jan. 18-20. The highlight of this community-wide celebration will be a keynote address by Sweet Honey in the Rock. Audience members will enjoy a community lunch served family-style followed by a keynote address that explores how music and activism have contributed to civil rights movements over the years. The performance will also be sign-language interpreted.
Rooted in a deeply held commitment to create music from the rich textures of the African American legacy and traditions, Sweet Honey in the Rock possesses a stunning vocal prowess that captures the complex sounds of blues, spirituals, traditional gospel hymns, rap, reggae, African chants, hip hop, ancient lullabies, and jazz improvisation. Sweet Honey's collective voice, occasionally accompanied by hand percussion instruments, produces a sound filled with soulful harmonies and intricate rhythms. The metaphor of "Sweet Honey in the Rock" captures completely the essence of these African American women whose repertoire is steeped in the sacred music of the Black church, the clarion calls of the civil rights movement, and songs rising out of the struggle for justice everywhere.
In addition to the keynote address, Sweet Honey in the Rock will join RCC for three days of activities including a sold-out concert, a Community Sing-along and school workshops.
Attendance at the Community Lunch and Keynote Address is limited to registered participants only. Tickets are $5 for Reston residents and employees, and $10 for all others. For more information on this event – as well as other events for the weekend celebration – please visit http://www.restoncommunitycenter.com/mlk-celebration.shtml.
This year's Reston Dr. Martin Luther King, Jr. Birthday Celebration will include events at RCC Hunters Woods, Lake Anne Plaza, South Lakes High School, Southgate Community Center, and Northern Virginia Hebrew Congregation.
The 29th Annual Reston Martin Luther King, Jr. Birthday Celebration weekend is presented by the Reston Community Center in cooperation with Martin Luther King, Jr. Christian Church, the Office of Fairfax County Supervisor Catherine M. Hudgins, Reston Community Orchestra, Al Fatih Academy and Cornerstones (formerly Reston Interfaith), with the support of many other religious and civic organizations, business groups, and schools.
For more information contact Kevin Danaher, Community Events Director, at 703-476-4500, extension 6166 or via email at kevin.danaher@fairfaxcounty.gov.
.