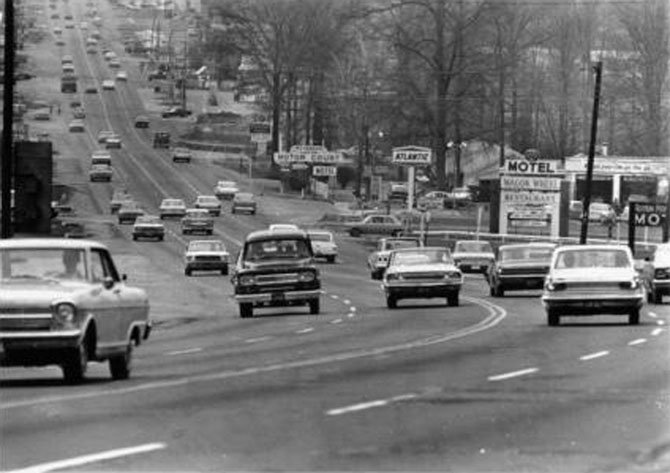 Route 1 revitalization has been a major topic in Southeast Fairfax County for several years now, and the Southeast Fairfax Development Corporation will continue this effort into 2014.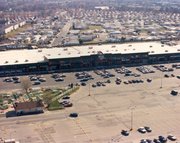 Edythe Kelleher, the executive director of SFDC, said that the group has a lot of plans that will impact residents and business owners along the Richmond Highway corridor.
Along with discussing SFDC's continuing Roundtable Speaker Series and other educational events. Kelleher and Lindsey Doane, SFDC marketing and communications director, addressed the history of Route 1, areas to watch out for, and SFDC goals in general.
Q: What are some plans SFDC has scheduled for 2014?
Kelleher: For 2014, we have a lot of great plans. We are hosting a roundtable series, which is a new thing for 2014. It is monthly, with different topics and speakers, and it will be the second Friday of each month at 8:30 a.m. at the Springhill Suites. This month was "Starting and Growing your Business," and we have three panelists who all have established businesses in the area, and they talked about their experience. We'll be going through a bunch of other topics as well. We're also doing our Summit Series, which is an educational series about different development topics. Last year, we did the Economic Outlook Summit, and we're going to repeat that one this year, on April 3, joint with the Mount Vernon-Lee Chamber of Commerce. We've got a busy year coming up. Our overall mission is to encourage revitalization, new development and economic vitality. In fact, we do these educational things for businesses and for residents. We've tried to promote businesses and residents. We do a monthly newsletter. We've been doing hidden businesses, where we profile the businesses. We've had a couple businesses approach us to be profiled.
Doane: We are always looking for businesses that are tucked away on Route 1 to be profiled.
Q: What do you think we can expect from Richmond Highway in 2014?
Kelleher: The big activity we see is towards the northern part of the highway, because that is where the metro is. We're very anxious to hear about the results of the Route 1 multi-modal transit study. We're participating in that and we'll see what they recommend. Delegate [Scott] Surovell is submitting a budget amendment to follow up that study with preliminary engineering. He wants to move directly into the next stage. If there was more transit on the highway, I think the development would be more consistent. We'll have to see what happens with Jeff Todd Way/Mulligan Road, which will go over to Telegraph and provide another connection to Route 1. It's hard to predict what people's travel patterns will be, but it certainly will provide more accessibility.
Doane: It will provide an easier link to and from the Kingstowne Area, which will be good.
Q: How exactly is SFDC funded?
Kelleher: We're in the Fairfax County community funding pool. But we also have private donations and sponsorships and grants. We have other commercial sponsors. Several of our board members are in various industries that serve the development community, and they make donations and sponsor events. Frankly Fairfax County, back in 2008 and 2009, cut our funding, so our funding is 25 percent less than what we used to get from the county. For the last few years, we have been eating into our reserves. We need additional funding. I don't know that it is going to come from the county anytime soon, but we are always looking for private contributions. People have been great about helping us out. They see the value in what we are doing.
Q: How has your time been since becoming executive director in March?
Kelleher: It's been 10 months. It's been great. It's a lot of fun coming over here. My husband lived off of Fort Hunt Road and grew up here. I was coming over here for 30 years. I have a real connection to the area. It's been fun, and it's a challenge. I've gotten to meet a lot of great people.
Doane: Edythe literally knows everybody.
Q: What else are you looking forward to along Route 1?
Kelleher: We're look forwarding to an exciting and busy 2014. We're very excited about the Penn Daw area right now. Hopefully we will get excited about other areas as well, but Penn Daw will be exciting for the next few years.
Doane: Huntington Avenue is definitely an area to also look out for.
Kelleher: Especially if you've got a lot of pedestrians, walking back and forth and commuting to the Huntington Metro.
Q: What else is SFDC working on in 2014?
Kelleher: We're working with the county's Channel 16. Our supervisors have very generously donated some of their production time to us. We have two videos that have been out for a while.
Doane: One is on the revitalization of Richmond Highway, and the second is on the benefits of the revitalization of Richmond Highway and why you should care. The third one is on the history of Richmond Highway in Southeast Fairfax. It's about 200 years of U.S. history in less than seven minutes, from early settlers, founding fathers, all the way up to World War I and World War II.
Kelleher: We are going to have a follow-up video to that picks it up from around the 1920s and takes it to the present. They are just now beginning to interview people for that, such as Mr. Blunt, who owns the Traveler's Motel and has been there forever, and Queenie Cox of the Gum Springs Museum.
Q: So Route 1 really started seeing a lot of changes once the interstates were built?
Kelleher: There was an article written by one of our board members, Tom Shaw, who passed away a couple of months ago, and he wrote an article that was published that was called "The Highway of Cool." He talks about the history of the highway. You have that Route 66 in the West, and Route 1 was a similar type of thing. If you look at it, you can see that the restaurants, motels and businesses that popped up were really there to serve the travelers. And then when Interstate 95 came up, this really became like the tumbleweed towns in the West. The highway came through, and cut off all the traffic, and so the motels didn't have the clients they used to have. The road entered into a period of decline. I think it is coming back.