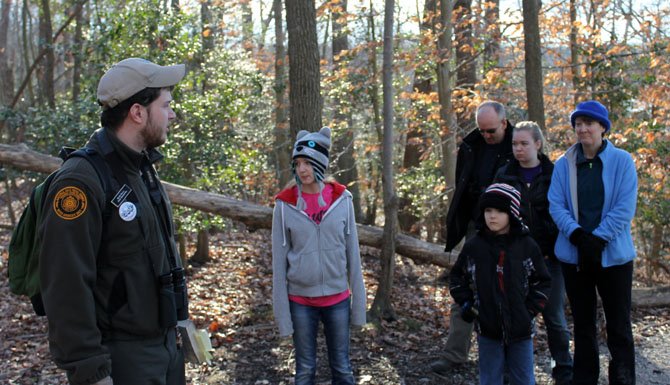 Park rangers led visitors of Mason Neck State Park through a series of hikes on Jan. 1 as part of America's State Parks First Day Initiative. Mason Neck hosted three hikes on New Year's Day, each of varying difficulty.
Interpretive Ranger Kevin Koons led eager hikers on the third guided hike of the day, which included an easy one-mile walk along the Bay View Trail, providing views of marshlands and Belmont Bay. Koons said the park is famous for its bald eagle sightings.
According to Koons, Mason Neck State Park saw a great turnout for the First Day Hikes.
"I wasn't sure because of the statewide fee increase, but we had a great turnout," Koons said.
The hike included lessons about the park and treating nature respectfully. Koons pointed out trees that had been written on, and talked about the damage this does to the trees.
"Every time someone carves their name on a tree, it leaves scars on the tree," Koons said.
Several families came along for the hikes, including the Houck family from Burke, who came out for the hike because they wanted something to do on New Year's Day.
"We really wanted something exciting to do," said Mary Houck of Burke. "We like this a lot. I'm always driving them out to the hikes."
Koons ended the hike with a quote from Dr. Seuss's book, The Lorax, regarding treating nature correctly and reversing the negative effects that the environment has experienced.
"One of my favorite quotes is, ''Unless someone like you cares a whole awful lot, nothing is going to get better. It's not,'" Koons said.
Koons said he loves his job as an interpretive ranger and couldn't imagine doing anything else.
Michelle Morris of Lorton said her family loves going to Mason Neck Park.
"They love coming out here," Morris said.
According to Jess Lowry, the park manager of Mason Neck State Park, nearly 50 people participated in the hikes.
"Any time a person takes the opportunity to come out to a hike, I think it's successful," said Lowry. "Especially when it could be cold. I went to the first hike and it was very enjoyable. It set the tone for 2014."