The Koinonia Foundation, located in a building behind Franconia United Methodist Church, has been serving the Springfield area since the early 1960s.
Many area residents, however, are unaware of Koinonia's role in the community of providing assistance to those in need.
"A minority of people know who we are. The people we impact the most have no idea we are here until they come into see us," said Robert Petitti, Koinonia's executive director. "But if you just grab someone on the street, they have no idea."
Petitti, who was named executive director in November, is hoping to change Koinonia's lack of recognition.
The new director has a marketing and sales background, and is using those skills to bring more attention to Koinonia.
"I'm a business man - I'm not a social worker," Petitti said. "This is sales and marketing on a different level."
While working as a sales person for laboratory supplies, Petitti used to go home at night thinking about how much money he made. Now, all he can think about is if he helped enough people.
"I do this because I feel better at night doing it, but the problem is sometimes I feel bad about it at night too because we can't always help everyone," he said.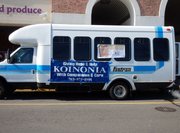 KOINONIA would be able to help more people, Petitti said, if they could afford a bigger building.
"We're really cramped on space," Petitti said.
Despite its limited facility, Koinonia is still able to help those in need of food and clothing assistance.
At a recent Stuff the Bus event, Koinonia received over 2,500 pounds of food and $500 in Giant gift cards. Gift cards help Koinonia purchase products like dairy and meat, which are hard to come by.
The majority of Koinonia's clients are Hispanic, but Petitti said they are starting to see a larger number of individuals from Arabic countries.

According to Jeannette Jere-Jones, Koinonia's social worker, clients come to Koinonia for a variety of reasons, including illness and job loss.
"Everybody's definition of a crisis is different. Usually they will tell you if they need food, clothing, or another type of assistance, and we ask them how they got to that point in life," Jere-Jones said. "Sometimes they just moved here and don't have a support system."
Affordable housing and well-paying jobs continues to be a major issue for clients of Koinonia.
"The rising cost of living is a problem. People's wages have not gone up but the costs have gone up. People who live paycheck to paycheck find it hard to make ends meet now," Jere-Jones said.
IN A RICH COUNTY such as Fairfax, many residents don't recognize the need of others and the presence of organizations such as Koinonia.
"Maybe because people are too busy, maybe because we don't have a huge monstrous facility, but we want people to know we're here," Petitti said.
In addition to the food and clothing assistance, Koinonia conducts programs such as Hopper's Bikes. The program was named after a young child nick-named Hopper who died when he was nine.
"Every year he would donate his toys from Christmas. He died at a young age. Since that time, his parents have come to us and have given us enough money to buy two bikes each month for kids who have birthdays that month," Petitti said.
In addition to a larger space, Petitti said Koinonia is in need of men's clothing.
Koinonia is a Greek word found in the New Testament of the Bible, referring to the spiritual connection Christians have with God after receiving the holy spirit.
Petitti said he is thankful for the help of grocery stores, volunteers and churches in the area, and will continue to use his sales expertise to benefit Koinonia.
"I have to open up my mind a little bit to look at how to be creative to get people to volunteer. This is a 24/7 job. You wake up thinking about how to help people in the community, and you go to sleep thinking, 'Did I do enough?''