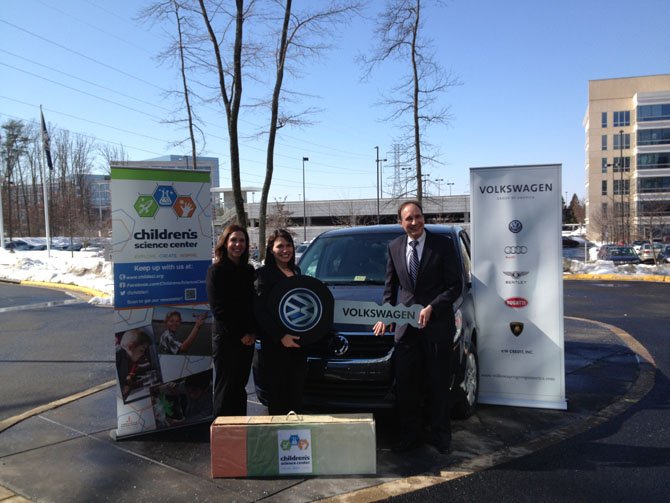 "It's a wonderful testament to the support that both the corporate and local communities feel toward this project, to fill the gap and make science real for our kids."
— Nene Spivy, executive director, Children's Science Center
The Children's Science Center is now the owner of a brand new 2014 Volkswagen Routan minivan thanks to a donation by the Volkswagen Group of America. Volkswagen executives handed over the keys to the 2014 Routan to Children's Science Center board members on Monday, Feb. 18 in front of the company's headquarters in Herndon.
"Until we have walls, it's our mission to be able to provide these hands-on activities sooner rather than later, and so we need wheels to get to all of the schools and libraries that we go to reach the children," said Nene Spivy, executive director of the Children's Science center, after accepting Volkswagen's donation. "We can now deliver that better because of Volkswagen."
The center's Museum Without Walls program will use the seven-seat minivan to bring science, technology, engineering and math (STEM) education activities to more students around Northern Virginia. Up till now, the Center has relied on rented utility vans to transport their supplies to elementary schools all over the region, a sizable cost to factor into the budding center's budget.
"We like to give back to the community and give opportunities to young kids who will become adults and will help to make the world a better place. The Children's Science Center is really pushing these kids and giving them the opportunities and exposure that they wouldn't otherwise have," said Gerhard Kiewel, vice president of finance for Volkswagen Group of America.
Kiewel added that the donation was the company's way of showing appreciation to Northern Virginia for welcoming Volkswagen into the area since its arrival in 2008.

Education director Dr. Lori Ann Terjesen has been with the center since the beginning. She said that the program grew according to the demand of parents who wanted their children to have more hands-on STEM experiences. "We started having community conversations bringing in teachers, parents, and stakeholders. We asked them, 'What do you want?' and they said more hands-on STEM activities," said Teriesen.
Since 2007, the Museum Without Walls Program has grown from serving 400 students to close to 14,000 today. Thanks to the success of the traveling lab it has seen about 400 percent growth in audience size in the last three years alone. The Children's Science Center currently operates out of an office in the Center for Innovation and Technology (CIT) Building on Rock Hill Road.
The Center's larger vision for STEM education in Northern Virginia is a 40-50,000 square-foot planned facility where children can learn and have fun with science education. Chairman of the Board Tanya La Force said that the museum will be built from the ground up over five years, and that a potential location is being considered in Fairfax County and Loudoun counties.
With that larger vision in mind, Volkswagen's donation is a much-needed stepping stone for the Center's growth.
"It's a wonderful testament to the support that both the corporate and local communities feel toward this project, to fill the gap and make science real for our kids," said Spivy.