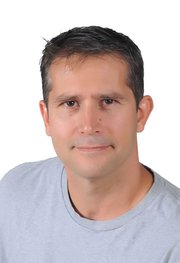 "Chris Stezin (Vienna) is, hands down, one of First Draft's biggest crowd pleasers," said Leslie Kobylinski (McLean), First Draft artistic director. "He's a prodigious writer who continues to be inventive and original. Just when you think you know his writing style, he'll surprise you."
First Draft is a professional nonprofit theater company dedicated to developing new plays and enlivening audiences with free play readings in Arlington and D.C. The free readings provide immediate audience feedback to playwrights to enhance their fresh, new works.
In announcing Stezin's appointment as writer-in-residence Kobylinski noted that "our audiences love what he has to say...I get the most enthusiast emails after a Chris Stezin play."
Stezin called his new position "a gift." It will enable him to present his works in-progress and then "get feedback from an interested audience." It will help to enhance his plays at an early stage.
"The Amateur - A Screenplay for the Stage" is one of Stezin's new plays. On a recent evening at Theater on the Run in Arlington, seven professional actors read the script before an audience who provided their personal reactions to Stezin and the actors.

"The Amateur" had its beginnings with a song, "So Alive" by Ryan Adams with lyrics, "I am on your side, And so alive. So alive it isn't real."
"I had that on in my car, really loud, and it's this kind of 80s throwback song, and I started thinking about a chase scene set to that song as a soundtrack," said Stezin. "A guy gets picked up by some gangsters in a black car, gets away, gets chased through traffic, and on and on."
Twice Stezin has been nominated for outstanding new play for Helen Hayes Awards. He also acts, most recently in the "The Laramie Project" at Ford's Theater.

Stezin is head of the writing department with WILL Interactive, Potomac, Md. "WILL Interactive makes what can most easily be described as 'choose your own adventure' movies as learning tools for Federal agencies and other organizations. Learners make interactive decisions with immediate consequences. rather than just watch. "You see where that takes you...These are mostly deployed for leadership skills, suicide prevention and intervention, off-the-field conduct for professional athletes, like that," Stezin noted.
At a First Draft reading, "I get insights from incredibly astute theater-goers," said Stezin. "I thank everyone for that." Additional information on First Draft is at: http://www.firstdraft.org/