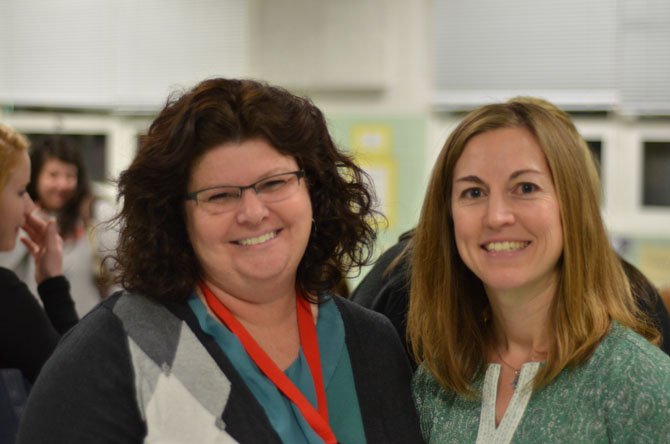 "This is an annual event held in partnership with the PTA," said Herndon Elementary Principal Ann Gwyn. "It is all about celebrating the many cultures here in Herndon Elementary." The International Night event was held Feb. 20. Foreign foods dishes were brought in and were available to sample. "We start planning this event in November, it is a very popular event," said school PTA president Amanda Geary.
The International Night at Herndon Elementary is one of the bigger school events. This year, approximately 150 people participated in the event. Herndon resident Yelena Barth helped coordinate the celebration. "It is my second year as chair of this event," said Barth, who has assisted with the International Night celebration at Hendon Elementary for eight years.
A native of Russia, Barth was impressed years ago by the diversity of her son's kindergarten class at Herndon Elementary. "It was just interesting to know where people were from," said Barth. Her other son Yasha is in his final year at Herndon Elementary School. In addition to volunteering with the Hendon Elementary PTA, Barth is president of the PTA for Herndon Middle School.
Teacher Megan Kelly, a 2008 graduate of Oakton High School, was assisting with an information booth on Russia. "I grew up in Fairfax County and I love the fact that they take time to celebrate the fact that we have such a multicultural population," said Kelly. Kelly teaches French Immersion at Herndon Elementary. "It is a very fulfilling job," said Kelly.
In addition to international cuisine at the cafeteria, visitors could view a talent show downstairs in the school gymnasium. Some students came dressed in international costume and attire. Also attending the event was Caroline Bonnier, a resident of France who was visiting the United States for several weeks. "This event is nice because it permits the kids to discover how friends come from different countries," said Bonnier.
The Herndon Elementary STEM lab was open for the evening. Located near the cafeteria, the STEM lab exists to support science, math and technology development in a hands-on lab. Resource teacher Elizabeth Gibson was at the lab with two Herndon Middle School volunteers, Amy Tran and Trang Nguyen. "I think this is a really great educational event where people can learn about other nations," said Tran.
To learn more about Herndon Elementary, visit www.fcps.edu/HerndonES/