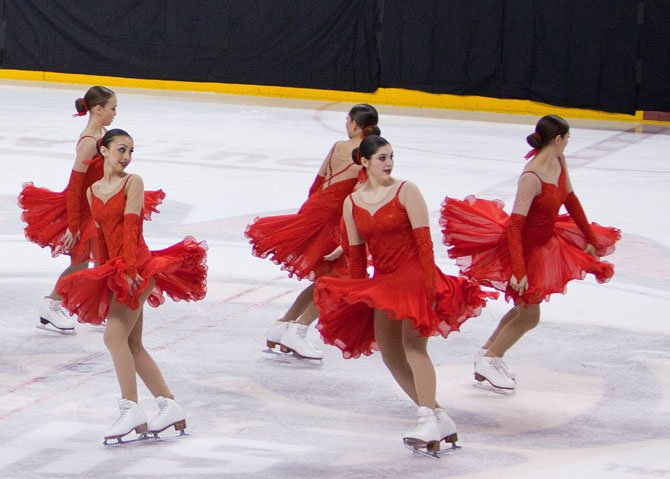 Emily Dillard and LaDan Nemati attend two different high schools; but on the ice rink, they're teammates.
Dillard's a freshman at Fairfax High and Nemati's a freshman at Paul VI. And on Feb. 27, they and Team Ashburn will compete in the Synchronized Skating National Competition in Colorado Springs.
Both Clifton residents, they're among five girls from Fairfax County on the 15-member team. They skate at the Intermediate Level – the U.S. Figure Skating Assn.'s most competitive level. And they're thrilled because it's the first time an Intermediate team from the Washington Metropolitan area has made Nationals.
"I'm so excited about it and I'm looking forward to spending this time with my team in Colorado," said Nemati.
"I thought we had a chance of going," added Dillard. "After getting third at one of our competitions, I knew we had a really good team. The girls all have the same goal and we're all nice to each other. It's not, 'You're in the way of my goal;' it's 'You're helping me achieve our goal.'"
IN SYNCHRONIZED SKATING, team members skate to music in unison while demonstrating their teamwork, speed and ability to perform intricate formations and challenging step sequences. Comprised of girls ages 13-18, this Intermediate-level team is the top group at Ashburn. To compete on it, members typically have more than six years skating experience and have passed various tests set by U.S. Figure Skating.
The season goes from June-February, but competitions began in November. Team Ashburn competed in three Massachusetts venues, but it was a Jan. 31 competition in Hershey, Pa., that sent it to Nationals. The top four teams from each of the Eastern, Midwest and Pacific sections of the U.S. will vie for the national title.
Dillard's skated eight years, four years synchronized. She practices eight hours each weekend with her team; has private lessons in ice dancing and figures, Mondays and Wednesdays, and practices the rest of the week at Reston Skatequest.
Nemati's also skated eight years, starting with group and then private lessons. It's her third season with this team and, besides the team practices, she skates four weekdays in Reston. The whole team also takes ballet and strength classes weekly.
With such time commitments, both girls have learned to do schoolwork quickly. "It's hard, but the accomplishment you feel after getting a medal at a competition gives you the assurance that you're doing the right thing by sticking with this sport," said Nemati.
"I like the feeling of doing something so graceful," said Dillard. "When I first started skating, it felt cool, just zipping along and flying on the ice. Now it's my second floor. I like how synchro looks on the ice, different from free skating. And I appreciate how difficult it is, but how seamless it looks. At one point in the program, you could have to go really fast, then almost stop and then speed up again – but you can't tell that from the audience."
Toughest, said Nemati, is "figuring out what you need to do to help the team, to be the best you can for it. Technically, you want to make sure your edges are solid, your posture is great and your face has the expression it needs to have." Plus, there's always the fear of being hurt or of injuring others.
"In our intersections – when we pass through each other in a line skating backwards – you don't want to fall," explained Dillard. "If blades link, it's kind of terrifying. And if one girl falls with five others skating right at her, she could get hurt because 10 blades are in the air."
Now, though, they're headed to Nationals. "We did really great at the past two competitions, so we knew we had it in us," said Nemati. "We just had to believe we could go out there and do it again to qualify. But we have lots of work to do to make sure we're a solid, national team. Little things that give us higher component scores, such as presentation, crispness and sharpness of our movements, can make the biggest difference."
MAKING NATIONALS at the Jan. 31 competition, said Dillard, "I felt like I could finally breathe. We skated fourth and, watching the other teams in our division, I knew we could beat them, but it was still nerve-wracking." In Colorado, both girls hope their team finishes in the top half.
"It's going to be close; a bunch of teams are really good," said Nemati. "I got a silver medal at the National Solo Ice Dance Championships in September, and I was hoping to go to Nationals in synchro, too, and it came true."
Whatever the result next week, "As long as we improve our score, I'll be satisfied," said Dillard. "I like the community between the girls and our relationship with our coaches. It's all business on the ice – there's no, or minimal, joking around. But off the ice, I know I could go to them with personal or skating problems."
Agreeing, Nemati said the best part of being on this team is "the lasting friendships I make and sharing the feeling of success with girls I consider my second family."