Under dozens of rainbow-colored hearts and tables laden with Valentine's treats, friends and family greeted each other with hugs and kisses as children chased each other through the halls of the Woods Community Center on Sunday, Feb. 9.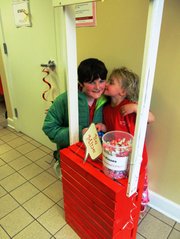 The noisy, festive atmosphere was more like a family reunion than a community blood drive.
And in many ways, it was.
For the fifth year, hundreds of friends, neighbors and family turned out for the Friends of Sadie Valentine's Blood Drive, which has become a family-friendly, community celebration of hope and inspiration.
On Sunday, the group collected 245 units of blood, a record amount.
"We have been blown away by the community support year after year," said Amy Dozier, a founding member of the Friends of Sadie. "We live in an amazing neighborhood. We celebrate with each other; we grieve with each other, and we help each other out. We've created a family out of our neighbors and friends."
IN 2010, six Burke moms created the organization when they learned that Sadie, the youngest daughter of friends Ethan and Erin Lauer, was diagnosed with a life-threatening cancer called Neuroblastoma at three months.
To help Sadie and other children battling cancer, they organized their first Valentine's Day Blood Drive at the Woods Community Center in February 2010. Their timing could not have been worse, they thought.
The event was planned in the middle of the history-making blizzard known as Snowmaggedon that buried the region in more than three feet of snow. Despite their concerns that no one would show up, the Burke community rallied. More than 115 turned out, and the group collected 103 pints of blood.
"Not only did they generate blood donations, they created a welcoming community of friends and family," said Supervisor John Cook (R-Braddock), who comes out every year to donate blood.

"Being here, you just feel the love and generosity from the people around you," said Elizabeth Wickham, 14, whose mom, Heather, is on the Friends of Sadie Planning Committee.
Educating the public about the critical need for blood donors, and taking the fear out of the donating, is a primary goal of the group.
"Before Sadie got sick, I was not aware of the importance of blood donation, especially donations from a person like me who has CMV negative blood and is O negative," said Mary Mulvenon, a founding member of the Friends of Sadie Planning Committee.
Unlike many "tribute" blood drives that lose momentum after the first year, the Friends of Sadie Blood Drive has increased both the number of donors and the pints of blood collected. According to the American Red Cross, just one donation can help save up to three lives, and every two seconds, someone in the U.S. needs blood.
"We need donors more than ever," said Rebecca Manarchuck, marketing manager of Inova Blood Donor Services. "Today the demand for blood is increasing while blood donation levels are decreasing. There is no substitute for human blood. It can only come from one place - a volunteer blood donor."
Manarchuck said Inova Blood Donor Services must collect more than 250 units of blood and blood products daily to meet the needs of patients in Virginia, Maryland and Washington.
Dozier said the group's success has inspired them to create a blood drive kit that other organizations can use to launch their own blood drive. "That's our next project. We want to 'pay it forward'," she said.
Now held every year on the Sunday closest to Valentine's Day, the annual Valentine Blood Drive has become a family-friendly, community celebration of hope.
"Giving blood is universal, and everyone can give the gift of life," said Caryn Franca of Clifton, whose son, Nick, died of Neuroblastoma in May 2011 at age 21. "This is an amazing group of women," Franca said at the event.
"Our kids have learned that cancer isn't just for old people, friends rally around each other in good times and bad, they have a voice and can contribute in their own way and so much more," said Laurie Florence, Friends of Sadie Planning Committee.
"From the day my mom first told me about the idea of a blood drive, I have gained so much more knowledge about cancer and how donating blood can help the patients battling it," Elizabeth Wickham said.
"We all love Sadie," said Brady Wickham, 11, Elizabeth's brother. "Everyone wants to support her, and other children who need blood donations."
FOR MORE DETAILS about Friends of Sadie, and to learn more about donating blood, go to http://www.friendsofsadie.org/ or visit Inova.org/donateblood.