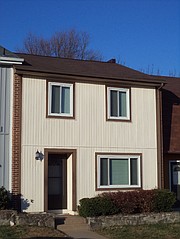 DryHome Roofing and Siding, a Sterling-based roofing company, has selected Cornerstones (formerly Reston Interfaith) as the recipient of a new roof through its annual Free Roof for the Holidays program. Through a network of housing,Cornerstones is a local nonprofit that works to rapidly rehouse individuals and families who are experiencing homelessness and promotes self-sufficiency by providing support for those in need of food, shelter, childcare, and other human services. The new roof will replace one on a Cornerstones' property in Herndon, ensuring the house is ready to become a home for a single mother and her 8-year-old child.
"By providing housing and services, Cornerstones helps families who are facing homelessness have a chance to rebuild their lives. But it takes a lot of resources to maintain these properties. That's why we are honored to provide a free roof to one of its transitional housing units, so that more families in need can celebrate the holidays in the warmth and safety of a dry home," said Steve Gotschi, president, DryHome.
Throughout November, Sterling-based DryHome accepted nominations from customers and the community to identify a Northern Virginia individual, family or nonprofit in need. DryHome selected Cornerstones as the recipient based on its needs, the condition of the roof of one of its transitional housing properties, and the impact the organization has on the community.
"DryHome has again helped make the holiday season better for our community. This is the second free roof that we have received through this program, and it makes a huge difference. Now we can use those maintenance funds to find other ways to alleviate the affordable housing crisis that leaves many struggling families unable to find and keep a home," said Kerrie Wilson, CEO, Cornerstones.