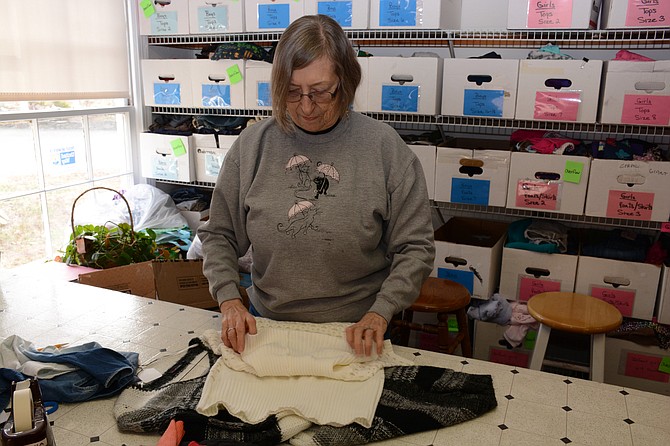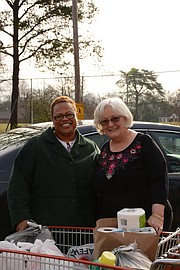 Mary Tinsley of Alexandria pushed the loaded shopping cart right out the door and into the parking lot where Marcia Reid of Woodbridge was pulling her car around. Mid-morning sun pierced through trees overlooking the parking lot behind Franconia United Methodist Church. Reid was picking up groceries for a Springfield-based client of Koinonia, a local nonprofit outreach organization.
"They're always so friendly, very welcoming," said Reid. "It makes it seems as though they're family. They treat us really nice when you come in here."
Since 1966, the Christian outfit Koinonia (greek for "community of fellowship of sharing and caring") has provided a wide range of support for the greater Franconia-Kingstowne area of Fairfax County living in poverty. They split a coverage zone with another Springfield and faith-based organization ECHO; Koinonia focuses on the zip codes 22310 and 22315.
You really can't get any more local than they are, they're perfect," said Supervisor Jeff McKay (D-Lee). "You know that every dollar that goes in there comes back out in our zip code."
Operating on a shoestring budget of just under $300,000, the minimal staff and bench of volunteers, they operate a year-round food pantry and clothing closet in a cozy building behind Franconia United Methodist.
Like ECHO, they also do case management and offer emergency financial assistance. Seasonally, they sponsor additional programs including "Blessings in a Backpack" (school supplies for students at Hayfield, Franconia and Bush Hill Elementary Schools) and a Christmas toy store.
THE LATTER was held Dec. 11 at St. John's Lutheran Church in Franconia. The independent shopping aspect of the event was an opportunity Koinonia Executive Director Robert Petitti said was meant to build confidence.
"Let them pick it out," he said. "Our philosophy is to empower our clients, so they're not always there trying to struggle. If they feel good about themselves, maybe they'll do a lot better."
Petitti said Koinonia sees on average 1,000 families a year: roughly 30-35 per week, 5-6 on a typical day, by appointment.
A large part of the demographic is Hispanic, according to Petitti, but they're beginning to see more clients from Middle Eastern and African descent as well. About 15 percent of the clients are home-bound senior citizens on fixed incomes.
"You'd be surprised the variety of people that come in here," said Petitti. "It could be your neighbor that's a contractor with the federal government. All of a sudden they're living month to month, the contract is cut. They come here for help for a month or so until they get a new gig. That's OK, that's what we're here for."
Appreciating the local level of poverty is one of the challenges for the community, according to Supervisor McKay. "Certainly there's more in Springfield, along Route 1," McKay said, "but a lot of people overlook that Kingstown-Franconia area. There's still a lot of our neighbors who are living in poverty."
McKay often points to eligibility for free and reduced-price meals at Fairfax County Public Schools as an indicator of the level of poverty in a community. For the 2013-2014 school year, the Virginia Department of Education showed 27.83 percent of the county's students qualified.
From Koinonia's coverage area, VDOE reported Franconia Elementary School with 25.05 percent of their students eligible, Mark Twain Middle School at 34.57 percent and Hayfield Secondary School right on average with 27.41 percent, all in the 2012-2013 school year (latest available data).
To continue its half-century legacy helping those communities, Koinonia is facing challenges with its confined space, operating costs and lack of name recognition in the community. "If they don't know you're there, they can't help you," said Petitti.
EXPANDING UP OR OUT is something Petitti is strongly considering, to be able to better distribute their supply of food drive non-perishables and clothing. But when commercial space is some of the most expensive in the county, they're a bit hamstrung until they can find more resources.
Which is why Petitti, who spent four decades in chemistry supply sales and marketing, is working to engage with the Springfield business community. "The hardest thing for a social worker to do is ask for something," he said. "I've been doing it for so long, it's second nature. We've been relying more on our faith partners. We can't do that anymore."
Nancy-jo Manney, executive director of the Springfield Chamber of Commerce, said the business-networking approach is an opportunity for nonprofits to build social, financial and intellectual capital in their community.
"If you can build a relationship with a printer," Manney gave an example, "then your annual report, letterhead, you might get those items more quickly, at a slightly lower price. You save time and money, and make your organization more profitable."
So Petitti spends considerable time networking with local businesses including consulting firm Calibre, as well as applying for grants, trying to find creative resource-building solutions. Calibre was one of 27 Springfield businesses that participated in the chamber's month-long coat drive ending Dec. 17. The drive benefits both ECHO and Koinonia.
"This is another type of sale: Here I have to sell our donors on what we do, how we help people, make them feel about it," said Petitti. "What's our product? When we help the people. The food, clothing, bills we pay, the counselling. It's not for profit, but it's still a business."
Koinonia is located at 6037 Franconia Road, Franconia. For more information on how to get involved, visit their website at www.koinoniacares.org.