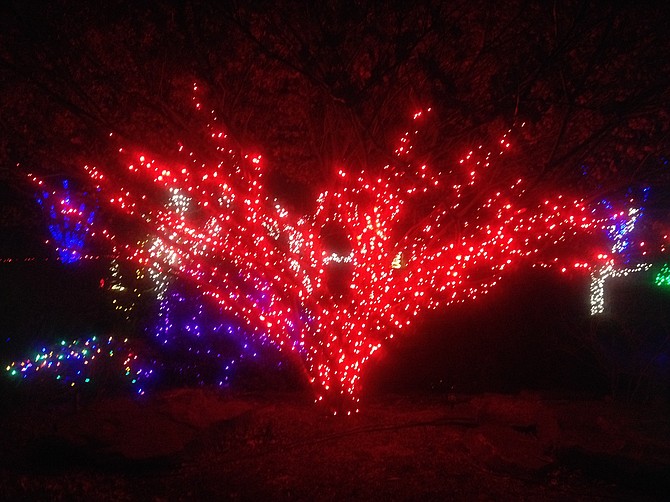 At the end of December and early days of January, residents in the Reston and Herndon area have a variety of local options for fun and entertainment. Some of these include the local art galleries, as well as options at the local community centers and regional parks.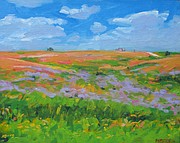 ArtSpace Herndon located at 750 Center Street in downtown Herndon hosted an artist reception for the new art exhibit, In From the Ground Up featuring the work of artist Pattee Hipschen. The exhibit shows the beauty of the rural landscape in an exhibit of colorful paintings and black and white monotypes. Hipschen's paintings of rural fields, native grasses, crops and dappled tree formations are brought to life through use of color, repetition and space.
ArtSpace Herndon will continue their tradition New Years Gala, hosting a celebration event the last evening of December. The event begins at 7 p.m., and will first feature a family friendly party with children's activities centered round the blues. Local folk singer and musician, Bill Davis will lead a drum making hands-on-art project at ArtSpace Herndon starting at 7 p.m. Children ages 4-14 will make djembe drums, and younger children will make shake instruments.
Families are invited into the gallery at 7:30 p.m with their drums to participate in a workshop lead by one of Virginia's best acoustic blues bands, Herbie D & the Dangermen. The band will talk about the origin of the blues and play some blues. Due to the limited seating inside ArtSpace Herndon for the workshop and hands-on-art activity, reservations are strongly urged. Tickets are available at a cost of $10 for a family for the drum and band workshop, and light refreshments. Tickets are $5/child to make a drum and not attend the workshop. The event is 7 to 8:30 p.m. At the end of the workshop, Herbie D. & the Dangermen will lead everyone outside for ArtSpace Herndon's traditional drum circle. ArtSpace Herndon's doors reopen at 9:30 p.m. for a separate ticketed adult party. The party is 10 p.m. to 12:30 a.m.; the doors open at 9:30 p.m. Single tickets are $30.
The Herndon Community Center will be offering classes in the end of December on Minecraft Programming and Minecraft modding. Designed for ages 6-13, enrollees will learn about Minecraft and java code. Also Herndon Community Center will offer a Gymnastic Winter Break Camp for ages 6-14 from Dec. 22-29. Focus will be gymnastics and cheer and will include a variety of activities. Participants must enroll in the course in order to participate.
Herndon's Potter's Fire located at 797 Center Street in Herndon will be hosting holiday events from Dec. 19-23. On Dec. 19, stop by the location to enjoy a mug of hot chocolate by the fire pit. Saturday, Dec. 20 patrons celebrate the holidays with refreshments and list to carolers. Monday, Dec. 22 you can tour the Potter's Fire studio and have a custom piece wrapped for the holidays. Potters Fire is small ceramics business which handcrafts each piece of pottery with respect and attention to detail reserved for the most thoughtful gestures.
At Reston Town Center, the ice skating rink has been set up at the pavilion for patrons. On Sunday, Dec. 21 the public is welcome to come and enjoy a holiday music performed outdoors by Rich Amelang, singing guitarist, at 12 and 1:15 p.m.; and music by the Northern Virginia Ukulele Society at 3 p.m.
At Reston GRACE current exhibit LineWorks: Drawing Redefined will close on Jan. 3, 2015. In "LineWorks," a variety of multi-media works by five artists will be presented who utilize line as an essential element in their work. Featured artists Lee Gainer, Sarah Irvin, Nikki Painter, Foon Sham, and Sarah Weinstock all create work that relies fundamentally upon line drawing. In addition, they all explore how memories are formed, collected, and forgotten, using drawing to document their experiences. Located at Reston Town Center, GRACE continues its role as a leader in the expanding regional arts community.
Reston GRACE's upcoming art exhibit "BEAD" will focus upon the use of beads in contemporary mixed-media art. Long utilized to adorn clothing and create jewelry and lavish accessories, beads are increasingly utilized in two- and three-dimensional mixed media works that defy easy categorization. A corollary to the STITCH exhibit mounted at GRACE in January 2015, "BEAD" will investigate the surprising breadth of ways in which contemporary artists are incorporating beads into their work. GRACE is specifically seeking beaded works that address concerns beyond simple adornment or decoration.
On Saturday, Jan. 3, 2015 the Walker Nature Center located at 11450 Glade Drive in Reston will host a winter bird count event. Everyone is welcome to join the nature center staff for a half-day annual bird count throughout Reston's natural areas. The event will be an opportunity to meet local bird experts, learn tips on identification and have fun while helping obtain important information about our feathered friends. Volunteers are invited to enjoy a free lunch, tally results and swap stories at Nature House following the count from noon to 12:30 p.m.
One regional park located only 15 minutes driving distance from Reston is the Meadowlark Botanical Gardens. Located in Vienna, VA on 96 acres of rolling hills and deeply indented dales, Meadowlark Botanical Gardens is a property of Northern Virginia Regional Park Authority, which is maintained and operated for public education and enjoyment. This was the wish of the donors, Dr. Caroline Ware and Dr. Gardiner Means, who donated their beloved farm in 1980 to the park authority.
Meadowlark Gardens is continuing their third display of the Winter Walk of Lights Festival. In addition to a gingerbread house, sleigh, carolers, and whimsical animations, the animated light show features 40,000 lights at the lake set to holiday songs. Timed admission tickets are required for this popular light show. Adult prices are $13 each; children ages 3 to 12, pay $8 each. The Winter Walk of Lights Festival continues until Jan. 4, 2015. Visitors can choose their start time and stay as long as you like; the park closes at 10 p.m.
Meadowlark Gardens suggests printing tickets at home and presenting them to the Visitor Center staff for admissions to the garden. The 8:30 or 9:15 p.m. ticket times have fewer crowds. It is suggested to dress seasonally and understand that this is a walking show, the path is 0.6 miles long.
More like this story