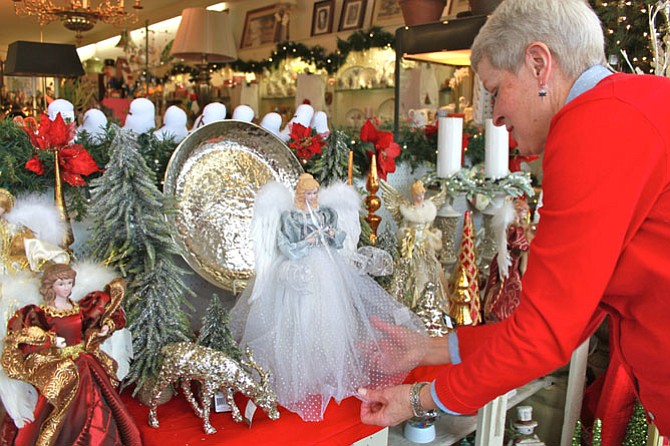 One of McLean's oldest shops is getting in the holiday spirit.
Brimming with candles, cards decor and a host of holiday and hostess gifts, Mesmeralda's is a store where a visitor can pick up something for everyone on their list.
"People tell me they love coming here," said manager Judy Hope. "It beats going to the mall and having to look in 50 different shops."
The store specializes in cards, dripless candles and Byers Choice caroling dolls - a popular collectors item.
Mesmeralda's, she said, is the type of store where regulars that they know by first name come year around - but less frequent visitors stop by for birthday or holiday gifts.
"There's a real sense of community," she said. "A lot of our customers know us. They've been coming for years and years."
One of those regular customers is Maureen Bruin, McLean resident. She said the shop is a great place to find unique items and cards. She has been frequenting the store since 1981.
"It's right in town and you can stop by and get what you need," she said.
In addition to gifts, the store has what Hope called one of the largest dripless candle selections in the area. Rows upon rows of unscented tapered candles and scented pillar candles line a wall towards the front of the store.
Nearby, stacks of playing cards for the bridge player on everyone's gift list run plentiful.
Right now - the last months of the year, is always the busiest for the shop. Nora Arquin, part-time manager, has taken over the window dressing duties for Hope to highlight the holiday items inside.
"There's a temptation every season in the store," she said.
Arquin said she has been working for the shop since 2008, but worked in a shop owned by the same company from 1995 to 2005.
"I like working in the store," she said. "It's a small group of employees that know each other well and we have the same philosophies about work."
Dressing the window can take up to a week, she said, and is a collaborative process with everyone who works in the store. For those who venture past the window on Chain Bridge Road, a host of angel christmas toppers, crystalware, Santa figurines and nativity sets that could be used over and over are on display.
Arquin's windows look like Christmas town sprung up and made a home in Mesmeralda's.
The shop is located at 1339 Chain Bridge Road. For more information, call 703-356-4494.