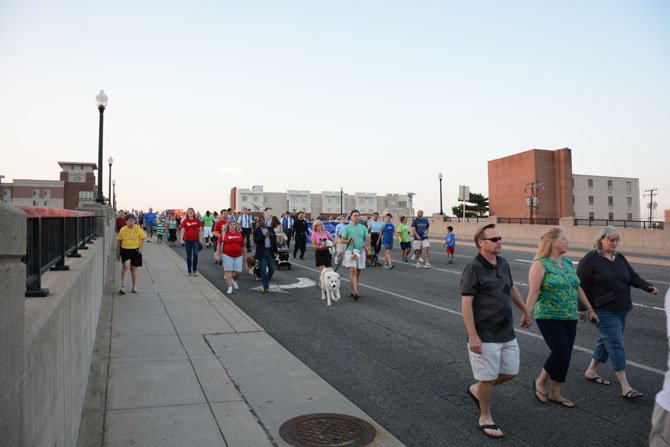 On a minimally muggy, late summer night on Aug. 22, hundreds of Springfield community members walked south across Veterans Bridge and over Old Keene Mill Road.
On the other side of the 13th annual Springfield BridgeWalk, the celebrants were first met as they gathered in front of American Legion Post 176 by a medley of patriotic songs played by members of the Kings Park Concert Band.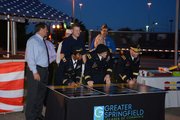 "This evening's bridge walk is especially significant to all of us," said Supervisor Jeff McKay (D-Lee District), "because we are honoring our good friends from Fort Belvoir by renewing the Army Community Covenant." The covenant is a tangible, explicit marker of continued mutual support and respect between the military and greater Springfield communities.
McKay emceed the formal program, which included addresses from military personnel Col. Michelle Mitchell, Fort Belvoir Garrison Commander; Maj. Gen. Mark Quantock, Military Deputy, National Geospatial Intelligence Agency; and Maj. Gen. Jeffrey Buchanan, Military District of Washington.
Buchanan said, "I was an Army brat, and we have a few sayings: Home is where the Army sends you. But home is also where the heart is." He went on to thank the Springfield and Fairfax County community for being a supportive home to so many military personnel.
"Not many people know this," said McKay, "but Fort Belvoir is the largest employer in Fairfax County."
Elected officials on hand included state Sen. George Barker (D-39), Del. Vivian Watts (D-39) and Supervisor Pat Herrity (R-Springfield). Watts kept her remarks the most brief, citing the current international hostile climate and offering plain, sincere thanks to the service members present.