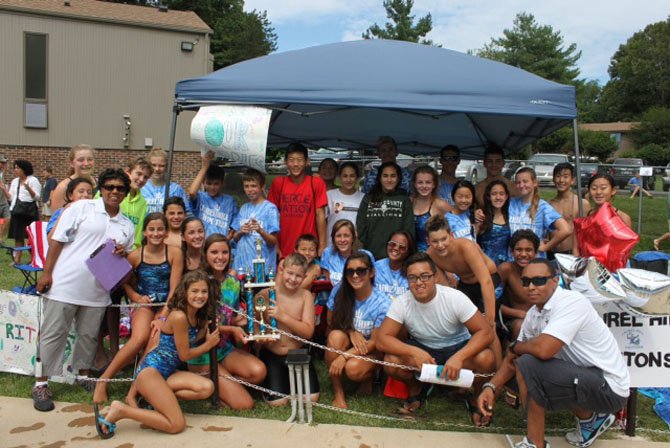 The Laurel Hill Tritons capped off another successful season by winning their 4th NVSL Division Championship in nine years with a record of 4-1 and securing a three way tie for first place. The season began with four consecutive wins, including a dramatic two point victory against formerly undefeated Camelot, and a very close third place finish in their Division Relay Carnival despite having no swimmers in four relay events. Several Triton relay teams did advance to the Relay Championship meet and amassed the highest point totals for an unexpected first place victory.
Triton swimmers made dramatic improvements week-after-week that were clearly on display in the final heart pounding home meet of the season. Sixty-one Tritons posted personal bests, eight individual pool records were broken, as well as two relay records. Coach Kathleen Winston and the Triton Junior Coaches could not be prouder of the progress this young team has made with only two graduating seniors (Sam Kesting and Aurora Harting).
There were many highlights to the season including an exciting head-to-head competition between Elena Booher and Kalisi Loveridge in both backstroke and butterfly as they took turns breaking pool records. The girls 8 and under relay team, (Claire Behan, Ana Loveridge, Holly Miska, Caitlin Sheeran and Giselle Trahan), continued their winning streak and demolished the previous pool records, while both 18 and under Mixed Age relays consisting of Boys (Dylan Nguyen, Nathaniel Kesting/Elijah Behan, Bryan Nguyen and Sam Kesting) and Girls (Elena Booher, Carmen Booher/Gigi Gemma, Alicia Booher and Greer Riedl) consistently prevailed to secure Laurel Hill victories.
Additionally, several of the Laurel Hill swimmers qualified and swam in NVSL All Stars (Top 20) on Aug. 2: Kalisi Loveridge (9–10 Butterfly), Elena Booher (9-10 Backstroke, 5th place, 37.74), Dylan Nguyen (11-12 Backstroke, 14th place, 35.37), Bryan Nguyen (13-14 Breaststroke, 15th place, 34.84, Bryan Nguyen (13-14 Butterfly, 13th place, 30.02) and Alicia Booher (13-14 Individual Medley, 4th place, 1:11.54).