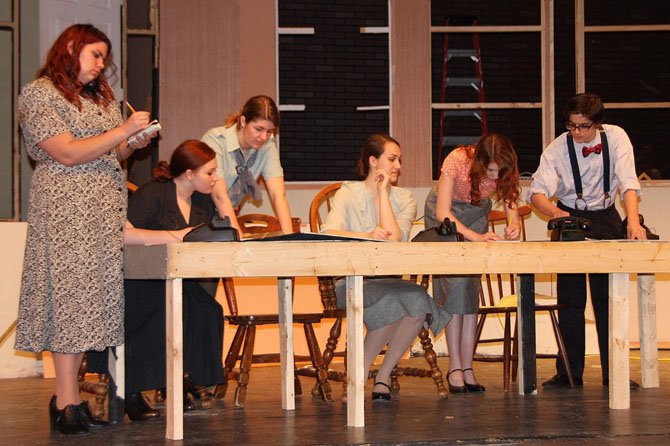 Chantilly — A 1930s newsroom is the setting for Chantilly High's madcap comedy, "The Front Page." The school's Cappies play takes the stage Thursday-Saturday, May 1, 2, 3, at 7 p.m. Tickets are $10 at the door or $8 via www.chantillyhsdrama.com.
"There are lots of funny characters and situations," said Director Ed Monk. "It's a screwball comedy, so everything is fast and quick. We have a really talented cast of 22, and the show has lots of nice, character parts for them. Everyone gets their moment to shine."
They've been rehearsing since February, and the costume crew, hair and makeup artists have meticulously researched what people wore and looked like in the 1930s. The play was written in 1929 and, said Monk, "Pretty much most of it is still relevant to what's going on today, both in politics and in the media. And it's fun watching the kids figure out how to use a rotary phone and a typewriter."
"The Front Page" is about Chicago reporters waiting to cover the hanging of a convicted killer. One reporter, though, plans to quit her job to get married, but this story keeps pulling her in. And when the killer escapes, she puts her job above her marriage. At the same time, her editor, Walter Burns, played by junior Diego Encarnacion, tries to keep her from leaving the paper.
Senior Brooke Johnson portrays Hildy Johnson, the best reporter for the biggest paper in Chicago. "She wants to live a normal life and move to New York with her fiancé, an ad man," said Johnson. "But she loves her nontraditional job and all the intrigue that goes with it. She's really tough and quick-witted and always gets the scoop."
Enjoying her part, Johnson said Hildy's "awesome and a fun character to play. She's sarcastic and persuasive and finds a way to have her way. And the dialogue is really fast, with 1930s slang and tongue-in-cheek humor."
She said the show contains "lots of funny moments. All the characters are sort of coarse and unrefined, so they just say whatever they think. It's also a cool look into the justice system at that time and the role of newspapers in bringing down corruption and holding the government accountable. You also see the role of the media in shaping public opinion."
Playing Hildy's love interest, Peter, is senior Sam McKee. "He's young and wealthy, but things aren't working out with Hildy the way he expects because of her job," said McKee. "He also has to deal with his complaining mother who's waiting for Hildy to join us in a taxi to catch the train for New York."
McKee's having fun portraying a romantic lead and someone with extreme emotions. "Peter's well-respected, smart and serious and likes things to go as planned," said McKee. "And when they don't, he gets angry."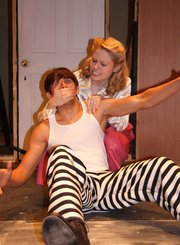 He said the audience will like "the witty banter among the reporters and the overall, constant action. There's always something going on in the newsroom – people are screaming and lying – so the audience will be entertained at all times. This play's a lot of fun."
Sophomore Grace Mattes portrays Judy Wilson, a reporter waiting for the story to break. "She's lazy, sarcastic and fed up with waiting," said Mattes. "She and the other reporters are playing cards to pass the time. She jokes around with them and doesn't really want to do any work."
Mattes likes her role, but says it's complicated because "We have to be able to say rapid-fire lines about our poker game while saying the lines for the plot. But my character also gets to play solitaire and build card houses, and it's fun to show her sarcasm. The audience will like this show because it's fast-paced, funny and has a really cool plot."
Chantilly plays are noted for their outstanding sets, and set designers Mia Rickenbach, a junior, and Ben Jordan, a sophomore, are creating the magic for this show. "We're doing a round, 1930s-style newsroom with period lights, furniture, wall hangings and props," said Rickenbach. "We looked up the architecture of that time and incorporated it into the arch-topped windows."
Jordan said the toughest part was "trying to make it as complex as possible to make it more impressive."
"There are phone calls throughout the show, so there's also a wall that opens up to show the person on the other end of the call," said Rickenbach. The best part, for both of them, was the shattering window they developed. Said Rickenbach: "It's made out of edible-sugar glass that one of the characters will crash through."
"It'll cover the whole stage," added Jordan. The tech crew has about 10 people, and both Jordan and Rickenbach are happy to be on it.
"I like it because I have a background in art," said Rickenbach. "And when you're designing sets, you can work off a script."
As for Jordan, he enjoys working on crew because "the people are all weird in a good way. And I never wanted to act, so this is a good way for me to gain entry into the theater community."