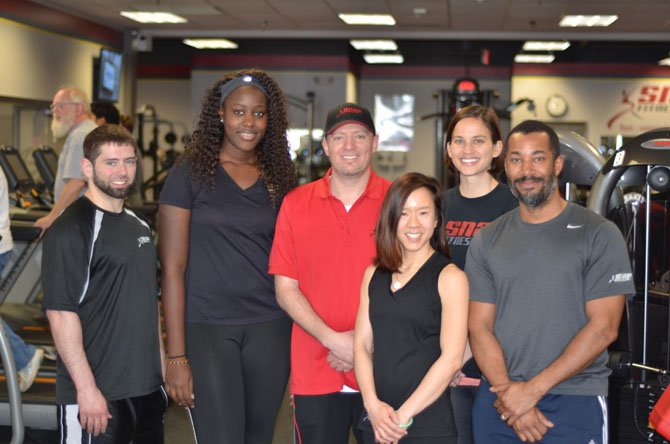 After more than three years of successful operation of a fitness location on Franklin Farm Road, in Herndon, business owner Sean Boyd decided to open a new Snap Fitness location at the Herndon Kmart Shopping Center on Elden Street. Several martial arts studios are located in the area, but there has been no fitness center serving the neighborhood since Gold's Gym closed its location in 2008.
Boyd had previously considered opening a site at the Kmart Shopping Center location. "They revamped the shopping center, and it is much more appealing," said Boyd. Snap Fitness is a privately owned and operated health and fitness club founded in 2003 by Peter Taunton. Headquartered in Chanhassen, Minn., the company specializes in smaller fitness gyms than bigger competitors.
The health and fitness industry has not been heavily affected by the recession, and Snap Fitness offers to service customers at all hours. This is to the company's advantage as some people refrain from joining a gym because they feel they lack time to fit in their workouts. At Snap Fitness locations there are no pools or tennis courts, but there are staff to provide members with equipment, guidance, and value-added services to achieve results.
"I live up the street and was one of the first ones here," said Nelson Borrero, a resident of Reston. Borrero, a patron of Snap Fitness, previously used the location at Franklin Farms Road before the Elden Street location opened. "This one is my favorite," said Borrero. The Elden Street Snap Fitness location also offers a kiosk fitness program, "Fitness on Demand."
With this program, gym members can choose from hundreds of exercise videos including kickboxing, dance, cycling, yoga, and more. A member uses a touch-screen to check for workouts with a live trainer, or if there are no scheduled workouts at the time, they can exercise with a video, projected on a large screen.
Boyd and club manager David Jordan look forward to associating and interacting with other local business. Chiropractor David Ingram with NOVA Family Chiropractic and local podiatrist Stanley Idiculla of NoVa Foot and Ankle also attended the opening ceremony. "We are glad there is a fitness center we can work in collaboration with for people who have feet injuries," said Idiculla.
Also attending the Saturday opening ceremony were Town of Herndon mayor Lisa Merkel, Town of Herndon councilmembers Sheila Olem and Grace H. Wolf, and Del. Tom Rust (R-86). "Once again a unique, wellness-centered business has chosen Herndon as its home," stated Town of Herndon Mayor Lisa Merkel. "This 24 hour gym will be a great addition to our community, especially for residents who work unconventional hours. We are thrilled to welcome them to town!"
To learn more about Snap Fitness, visit www.snapfitness.com.