Photo Gallery
Volunteer Award Casino Night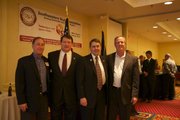 Honoring Volunteers who generously gave their time in the year 2013.
Click Photo for Flash
The Southwestern Youth Association held its annual Volunteer Awards casino night on Saturday, March 22 at the Fairfax Marriott Hotel at Fair Oaks. SYA honored volunteers from all of its sports for their commitment and service in 2013.