Arlington — Page-by-page quickly became ton-by-ton at the annual Community Shred Event last month on the Annandale Campus of Northern Virginia Community College. Allstate Insurance Company and television channel NBC4 again co-sponsored the event, supported by the college and Fairfax County government.The sponsors are especially sensitive to the current problem of "identity theft."
The insurance company has policies to redress damage caused by such criminal activity, and the television news organization constantly reports on the growth of such crimes. Both companies educate consumers on steps to take for self-protection.Robert Hull, Northern Virginia Community College community relations specialist, explained the college's role. To begin, the Annandale campus is centrally located and has ample space to handle the large number of people interested in safely disposing of personal information in paper form. He added that the college always is receptive to a proposal in which it can be of service to the community apart from its primary educational function. Hull added that support of recycling programs is an important contribution to preserving the environment.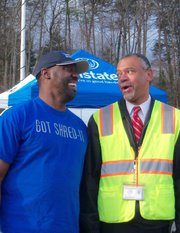 Fairfax County's support is two-fold. Although a private activity, no fee is charged for police units controlling the movement of hundreds of vehicles bringing papers for destruction. At times throughout the morning, traffic lines would weave across the campus and stretch for some distance in both directions on Little River Turnpike. Additionally, while papers are shredded, the many cardboard boxes holding them also must be disposed of.
The containers become county property and cardboard becomes a resource producing income which is applied to county-wide environmental program costs.Robert Scott, a manager in the Department of Public Works and Environmental Services, said that the county looks favorably upon activities arranged by private organizations, such as the Community Shred Event, because they are consistent with formal departmental programs on solid waste management and recycling.
Shred-it is a company with Canadian roots and a wide range of franchise operations.Sean Wynn, district general manager responsible for the Mid-Atlantic area, said local area events are encouraged by the company and he supervises several throughout the year. He described the Allstate-NBC4 sponsored-event as "a very well run and smooth operation." He pointed to his fleet of mobile shredders that can process a cubic foot of paper in seconds, and remarked that "each one can hold over a ton of shredding and all of it will be used to make new products; that saves a lot of trees."