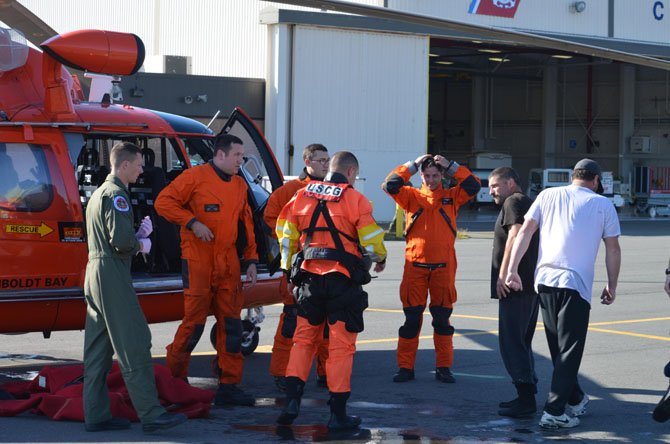 On Friday afternoon, Sept. 6, a garbled mayday call from a commercial fishing vessel roughly 40 miles off Cape Mendocino, Calif., meant Coast Guard Lt. Brian Ward would get a rare chance at a major rescue.
The excitement for his four-man helicopter team was palpable. These cases only come along about once a month. But with extensive training on his side, Ward, a 2000 Robert E. Lee High School graduate, kept a cool head and executed a textbook, successful rescue mission as aircraft commander.
When the distress call from the sinking ship first came in, the two radio towers at Coast Guard Sector Humboldt Bay also received a signal by way of satellite from the 406 Mhz Emergency Position Indicating Radio Beacon (EPIRB) device that was on board and activated by the two-person crew. Thanks to the EPIRB, Ward was able to "make a beeline for their position," he said.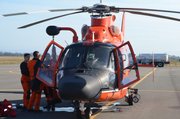 THE "RESCUE" PORTION of the mission was much more efficient without the "search" component, as the chopper was able to accelerate to 135 knots in the air (around 150 miles per hour) after taking off from Arcata Airport. From about 60 miles away, the total response time for Ward and his team was a scorching 52 minutes.
"We showed up and the vessel was exactly where we expected it to be," Ward said. "It was rather unusual. Everything worked perfectly."
The cause of the wreck is still unknown at this time. According to the account the fishermen gave Ward's crew, the Crescent City-based pair had been topside fishing when they heard an alarm, and immediately went to the engine room to find it inexplicably taking on a lot of water. By that point, all they had time to do was activate the EPIRB, make a distress call and evacuate into a life raft.
Fortunately, they also had full-body neoprene emergency wetsuits. But even fully covered, the conditions were still hazardous. Ward recalled, "There was about 20 knots of wind. Eight to 10-foot seas were starting building as we were out there. It was starting to white-cap."
When the MI-65 "Dolphin" Helicopter reached the site, there was a significant amount of debris and the boat was already mostly submerged, save for the masthead and some of the out rigging. Ward put the aircraft in hover mode while his team located the life raft, then a rescue swimmer descended and checked the condition of the fishermen. The remaining two members of the Coast Guard crew hoisted each man up to the helicopter in a basket.
Having daylight worked in the team's favor, though the size of the waves ensured it wasn't a total cakewalk. "It was a bit of a challenge," said Ward. "We train to do this day and night, and any daytime is inherently easier. But with pretty big seas, they were getting pretty beat up down there."
Since the rescue team determined the fishermen did not require any immediate medical attention, Ward piloted the aircraft directly back to the Humboldt base, where they had arranged for an ambulance to meet them at the landing area. The pair declined any medical care, warmed up, were given dry clothes and headed back to Crescent City.
"It was pretty much textbook," said Ward. "All the equipment worked properly. I can't think of anything that could've gone better. We got the people in the plane without any drama. We had a headwind coming back, but the aircraft performed exactly as it should have."
Compared to the more regular calls of overdue vessels, flare sightings and occasional prank calls, this case was significant.
"It's definitely exciting," said Ward. "But I don't want to say it's a rush. We train extensively, so we're calm, collected, we can make good decisions without our emotions getting the best of us. When you get a good case, you get excited, everybody's excited. But we train for this a lot."
WARD'S COAST GUARD TRAINING began at an early age, seeing his father Ken serve in the branch as active duty for 30 years. During that span the family moved several times: Bryan was born in New York and lived in Kodiak, Alaska, Hawaii and the San Francisco Bay Area. The family also moved in and out of Springfield three times.
Ward attended elementary school and Key Middle School in Springfield, albeit sporadically, before his family returned for good in 1998. Wanting to keep the door open for their children to resume friendships in the event of repeat assignments, the Wards kept ownership of their Springfield home and rented it out to other "Coastie" families in their absence.
It came as no surprise to Ward's mother Jean when her "daredevil" son chose to pursue education at the US Coast Guard Academy in New London, Conn. An Eagle Scout and member of Springfield's Boy Scout Troop 1140, Ward was interested in science and engineering from an early age, but knew that any job spent simply sitting behind a desk wouldn't be active or adventurous enough.
It didn't surprise Jean either when Brian called to tell her about the rescue. But that was more due to social media. "We saw a Facebook post from his wife," she said. "He did call and tell us, but his wife beat him to it."