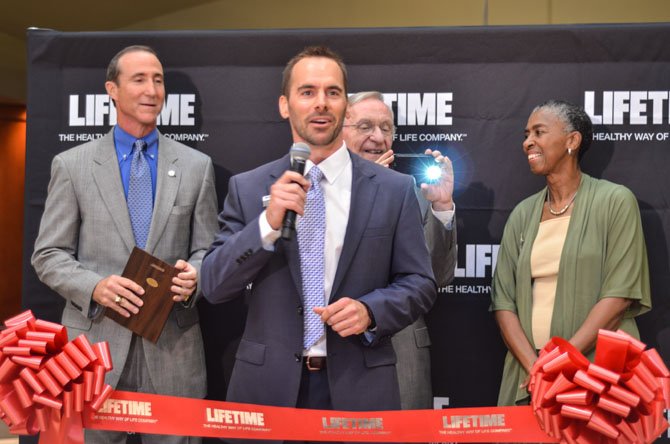 Life Time Fitness Celebrates
Life Time Athletic Reston held an official opening ceremony on the evening of Sept. 12. The grand opening ceremony was open to the public, and several local dignitaries attended, including Robert "Bob" Simon, Jr., founder of Reston. Life Time Athletics staff from the Reston store and other locations including Centreville were also on site to attend to the large number of visitors.
Jeff Zwiefel, executive vice president and chief of operations for Life Time Fitness recognized Mr. Simon. "Without this gentleman we would not be able to make this possible," said Zwiefel. Mark Ingrao, president and CEO of the Reston Chamber of Commerce, also came up to the stand to speak, as did Supervisor Catherine M. "Cathy" Hudgins (D-Hunter Mill). Delegate Ken Plum (D-36) complimented Life Time Fitness staff on the new building. "This is a wonderful facility, you are going to fit right in," said Plum.
"Our whole goal is to do the best and to provide unparalleled experience," said Miklos Horvath, a general manager at Life Time Fitness. A resident of Ashburn, Horvath also grand opened the second Life Time Fitness in Westminster, Colo. Horvath has been working in the health and fitness industry for 22 years, having starting as a personal trainer and worked his way up. "The population here is very health conscious and we are looking for customers who want something better," said Horvath.
UNTIL 9 P.M. the facility was open to visitors who wanted to visit or view different parts of the building. Life Time Athletic Reston is a 114,000-square-foot facility, including the parking lot. The building has two full-size basketball courts, and indoor and outdoor pools. "The outdoor pool is now closed but will reopen after Memorial Day weekend," said Natalie Bushaw, director of Public Relations for Life Time Fitness. "We have the best instructors in the region," said Bushaw, "our health programs set us apart."
The Life Time facility in Reston has hired approximately 225 employees. One of them is Alyssa Carr, resident of Sterling, Va. Carr spent most of the evening at the kids academy center greeting visitors. "I have been a gymnast for 15 years, and joined this job at Life Time in August," said Carr.
Life Time Kids Academy is a new membership program for children ages 3-11 that gives access to 11 engaging classes on mind and body, fitness and agility, arts and culture, and life skills.
The Reston Life Time has more than 400 pieces of cardiovascular and resistance training equipment, much of it located on the second floor of the building. Stefanie Weaver, resident of Haymarket, and Life Time group fitness head was also attending the event. "Life Time is one of the top clubs of the country," said Weaver. "We have personnel training, group fitness, yoga, dance and many other fitness programs," said Weaver.
In addition to the exercise facilities, Life Time Fitness in Reston hosts a spa and café which are available to both members and non-members of Life Time Fitness. Life Café Department Head Miriam Winter, currently a resident of Fair Lakes in Fairfax, was greeting visitors to the Life Café. "Our motto at the café is that if it is here, it is healthy … about 30 percent of our menu is organic, including our shakes and smoothies," said Winter. Samples of the food and beverages from Life Café were available during the event.
LIFE TIME ATHLETIC RESTON has no membership contracts, complimentary towel and locker service, and an initial 14-day money-back guarantee. For membership rates and more info, visit their webpage at: https://www.lifetimefitness.com/en/clubs/reston-va/your-lt.html.