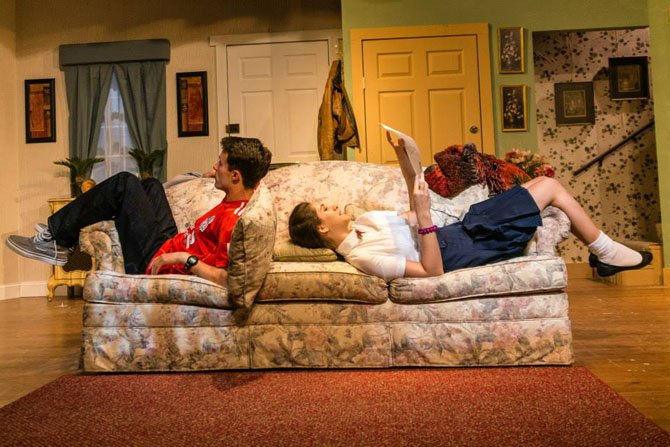 Alexandria — Few will ever compare Ray Cooney to Shakespeare. The king of British bawdiness doesn't pretend to be the Bard of high-brow literature, but as Britain's recognized "master of farce," Cooney's comic genius is unmatched and on display in "Caught in the Net," now playing at The Little Theatre of Alexandria.
Written as a sequel to "Run for Your Wife," "Caught in the Net" is a fast-paced farce that finds taxi driver John Smith juggling two families in different parts of London. When his teenaged children discover each other on the internet and decide to meet, John's already complicated life descends even further into disarray.
The mayhem takes place in the home of John and Mary Smith, who live in Wimbledon, and, simultaneously, the home of John and Barbara Smith, who live in Streatham. When John's daughter Vicki and son Gavin discover how much their fathers have in common — same age, same name, even the same job — John frantically tries to keep them apart and his two marriages together.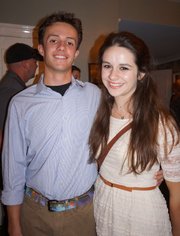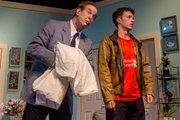 This deftly written comedy is expertly performed by an LTA cast led by the incomparable duo of Mike Baker as John and Paul Tamney as his confidante and upstairs Wimbledon tenant Stanley Gardner. Together they handle the intricately synchronized script with unparalleled verbal dexterity and spot-on timing.
Joining Baker and Tamney in the finely-tuned ensemble are Annie Ermlick as Barbara Smith, Tricia O'Neill-Politte as Mary Smith, Luke Markham as Gavin Smith, Eliza Lore as Vicki Smith, and Richard Fiske as Stanley's Dad. As a team they execute with razor-sharp precision Cooney's descent into delirium.
For Markham, a senior at St. Stephen's & St. Agnes High School, "Caught in the Net" is his theater debut.
"This is fantastic," Markham said following the opening night performance. "Everyone has been so welcoming. I couldn't have asked for a better experience."
Lore, a 17-year-old senior at West Potomac High School, returns to LTA after appearing in "A Christmas Carol" at the age of 12.
"What a great night!" Lore said at the opening night reception. "There's nothing like performing in front of a live audience and hearing their laughter."
Under the tautly timed direction of Eleanore Tapscott, the LTA cast is peerless in delivering an evening of hilarity. "Caught in the Net" is British farce at its best — well staged, well cast and well written with a tale-ending twist you must see for yourself.
"Caught in the Net" is playing now through Sept. 28 at The Little Theatre of Alexandria, 600 Wolfe St. For tickets or more information, call 703-683-0496 or visit www.thelittletheatre.com.