Mr. and Mrs. Stephen Meador of Clifton are pleased to announce the marriage of their daughter, Holly, to Brett Patterson, son of Mac and Theresa Patterson of Herndon.
The wedding was held at the Cathedral Basilica of St. Augustine in Florida with the reception at the St. Francis Officers Club, June 8.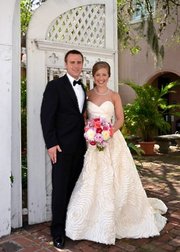 The couple honeymooned in the Turks and Cacaos and now reside in Herndon. Holly is a graduate of Paul VI High School, Virginia Tech and is employed at Il Pioppo. Brett graduated from Westfield High School, George Mason University and works at Dunn & Phelps.