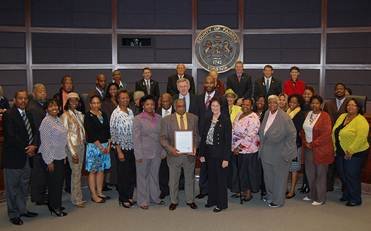 Supervisor John Foust and the Fairfax County Board of Supervisors honored Rev. Dr. Robert Cheeks, Jr. and members of the Shiloh Baptist Church of McLean on their 140th anniversary at the board's Tuesday, Oct. 8 meeting.
Shiloh Baptist is one of the oldest African-American churches in Fairfax County. Its history dates back to Cyrus Carter, a prominent member of the Northern Virginia African-American community. Between 1866 and 1873, Rev. Carter organized four congregations, including Shiloh Baptist. Church members initially worshipped in Odrick's Public School in McLean, which is now the site of Charity Baptist Church. A number of the present day members of the congregation can trace their roots back to the founding members of the church.
Odrick's Public School and Odrick's Corner are named after Alfred Odrick, a freed slave who was well known in the area for his carpentry skills and who was one of the first African American land owners in Fairfax County. Many of Odrick's descendants settled in homes surrounding his, giving rise to the name Odrick's Corner. The cornerstone for the church building was laid in 1887, and at a cost of $2000, the building was constructed. In 1926, a fire destroyed the church and members once again worshipped at Odrick's Public School until a new building was built.