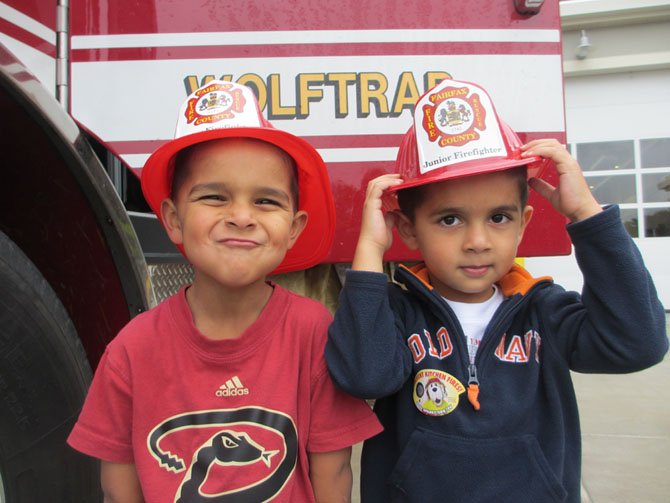 Fairfax County fire stations capped off National Fire Prevention Week with station "open houses" throughout the County on Oct. 12. In Vienna zipcodes 22180 through 22182, there are two fire and rescue departments, Station 2 in the heart of Vienna, and the newly-launched Wolftrap station, number 42.
The Wolftrap station celebrated its grand opening with the ceremonial "push-in" of its engine.
The Vienna Volunteer Fire Department [VVFD] was turned into a mini-fairgrounds, although one with a safety message. Since "Prevent Kitchen Fires" was the national theme, VVFD went all out. Besides its usual presentation of fire and rescue equipment, games and prizes, activities for children, free hotdogs and popcorn (donations accepted), moonbounce, fire helmets and firehose demonstration, VVFD also set a mock-up kitchen on fire, real fire. Not surprisingly, a firefighter quickly put out the smoking fire with a chemical extinguisher.
"Today is definitely about the kids," said VVFD chief, John Morrison. "We get the kids in, they have fun, and we use this to present safety messages to parents, at the same time.
"I think all of us remember going to the fire station as kids," Morrison said. "I think that is why I wanted to join the department."
BY DUSK, Fairfax County announced that the VVFD had won "best open house"—the third consecutive year to do so—for the 2nd Battalion. VVFD president Anthony Stancampiano and Chief John Morrsion sent out congratulations and expression of gratitude when the news was announced.
The difference between a "volunteer" fire and rescue department and a Fairfax County career-only department is that the county funds the latter completely, in both the physical plant and equipment. A volunteer fire department can buy additional equipment from fundraising proceeds and staffs the station with both "career" and volunteer emergency personnel. Volunteers are trained, at no charge to the volunteers, by Fairfax County Fire and Rescue.
The VVFD supplements its volunteer staff of about 100 operational and administrative members with 18 career firefighters, in groups of six working one of three shifts. VVFD is staffed 24 hours a day, seven days a week.
The Wolftrap station opened on Oct. 1 and made more than 60 calls during its first two weeks of operation. All Fairfax County firefighters are basic-level EMTs. Paramedics receive certification beyond that. Wolftrap station commander Captain Ronnie A. Rodriguez, who came in from the Dunn Loring station, said response time to calls in the station's area has been reduced "quite a bit." The Wolftrap station goes out to Crowell and Hunter Mill roads in one direction, and to the four-corner stop at Beulah, Trap and Old Courthouse roads. Wolftrap will become fully staffed with a medic unit on July 1.
A constant mist may have slowed the stream of visitors to the fire stations on Saturday, but, for those who braved the drizzle, the fun was worth it. Over at the Vienna station, kids still bounced in the bounce house and squirted the hose. They climbed over fire and rescue trucks and stood spellbound when vehicles went out on a call.
"This is a great event," said lifelong Vienna resident Molly Allred, browsing through the open house with her children, Lilly, 9, Annie, 7, and Reece, 2. The youngsters liked the demonstrations and climbing on fire equipment most of all. "It's fun for the kids and it's a real sense of community."
TO LEARN MORE about the Vienna Volunteer Fire Department, its operation and fundraising events, go to www.vvfd.org.