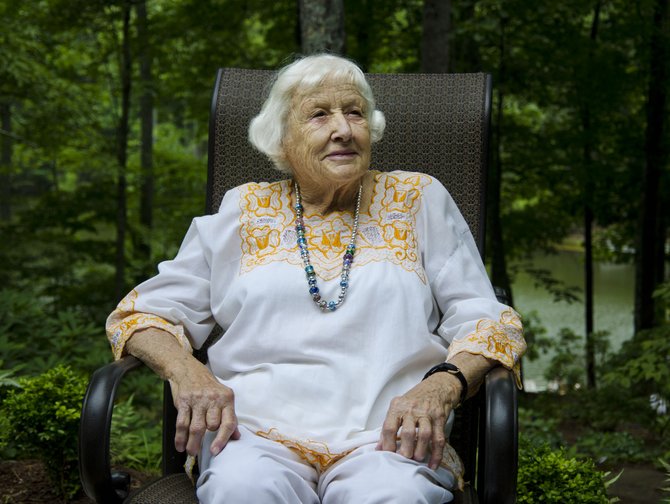 On Nov. 27, Grace Jarman Dawson, 93, died peacefully at her home in Purcellville, Va. She was born on June 3, 1920 in Crozet, Va., to Mattie and George Jarman, one of seven children. Her life was marked by love for family and friends and by the remarkable value system, spirit, and ethic of accomplishment she passed on to all. She and her husband Laurence Dawson, who died in 1987, were married for 46 years and shared a deep commitment to marriage and family.
She was always present and supportive in the lives of her five children and taught by example. She was the Cub Scout leader, little league organizer, 4-H Club leader, Pony Club leader, Herndon High School class mom, and US Eventing Association organizer. To her grandchildren she was friend, teacher, and role model during summer vacations on the farm. She collected friends throughout her life and deeply valued these remarkable shared relationships. Her motto of "no such word as can't" carries on in the lives of so many.

She is survived by her sister June L. Cleveland; children: Laurence A. Dawson, Jr (Sandee), George W. Dawson (Rosemary), Lewis D. Dawson, Patricia D. Foos (Rob) and Phyllis M. Dawson; by grandchildren Cami Boyd (Randy), Stacy Stearns (Jonnie), Gwendolyn Dawson (Ba Nguyen), Jacob Foos, Nicholas Dawson, Heather (Rick) Burman. Mitchell (Amy) Foos, Linden Foos, and David Dawson; and by great grandchildren Grace Burman, Phyllis Stearns, Mikaela Foos, Chipper Burman, Sarah Nguyen, Matthew Foos: by Jineen Reed (Mike) who was like a daughter to her and by so many close friends.
She was predeceased by her siblings Anna May Keifer, Walter Massey Jarman, John Ballard Jarman, Margaret M Lewis, and Charles Russel Jarman.
She and her husband resided in Great Falls, Va., from 1951 until 1987. He was employed by the U.S. State Department. Together they were also instrumental in real estate development and life in the community. During the 1960s as a volunteer 4-H club leader she played a key role in the acquisition and early development of Frying Pan Park and served in key state wide 4-H Club leadership roles.

During the 1970s she served as District Commissioner and Regional Supervisor in the US Pony Club, in the 1980s she helped organize and produce equestrian competitions sanctioned by the U.S. Eventing Association, notably Difficult Run Pony Club Horse Trials and the Morven Park Horse Trails. Her legacy includes building many of the cross-country jumps still in use.
In 1987 after her husband's death, she and her daughter, Phyllis Dawson, moved to Hillsboro, Va., where they developed Windchase, an equestrian center with an international reputation.
A public service celebrating her life will be held at 2:30 p.m. on Sunday, Dec. 1, at the Great Falls United Methodist Church located at 10100 Georgetown Pike in Great Falls Virginia. Immediately following, all are invited to a reception and visitation in the church social hall. Adams Green Funeral Home of Herndon, Va. is providing services and is receiving floral arrangements or alternatively donations may be made in Grace's name to the Amboseli Trust for Elephants at www.elephanttrust.org or call 508-783-8308.